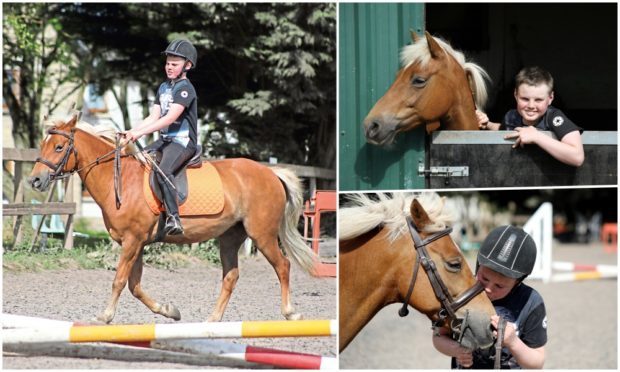 A Dundee horse riding centre is holding dedicated lessons for children on the autistic spectrum in the hope of creating equal opportunities for youngsters.
Before discovering riding, Stuart Watson-Lang, from Maryfield, tried football with the National Autistic Society but didn't enjoy the physicality of the sport.
However, after being introduced to autistic riding lessons, the 14-year-old's new-found friendship with his horse, Flame, has improved his coordination and muscle tone.
Stuart's mum, Sara, says that riding at Claverhouse Equestrian Centre has helped his mental health after he was diagnosed with autism and ADHD.
She added: "It makes him feel comfortable and normal. He's actually been loaned Flame from the owner.
"He got the horse at Christmas time because he'd been doing so well, and he's learned how to look after her.
"She misbehaves too, so they're a good match. They're both feisty but kind."
Sara said Stuart's confidence has been boosted since starting the lessons and he's taken to social media to display his riding skills.
She added: "It's helping him mentally because he's got the confidence to be able to do something like that.
"He puts the photos with Flame on his Instagram and uploads the videos on to YouTube. He's done a couple of competitions at the stables and his grandfather mentioned how he never thought he would be able to see his grandson take part in a competition.
"For us mums, it's lovely to be able to see them do something adventurous. He's had a few falls but he's been picking himself up afterwards which is a good life lesson."
The centre originally launched the lessons as a summer school but recently extended the programme due to demand.
Yard manager Kirsten Macpherson said: "The sessions are going to run for the foreseeable future, not just for the summer. We decided to extend it based on the amount of interest we had from parents.
"We set a reduced price for the autistic lessons and the parents have been loving it.
"It was important for us to keep the lessons as affordable and accessible as possible. We like getting all the communities involved."
Lessons are tailored depending on the confidence of the child and last 30 minutes, with time included for mounting and dismounting.
Non-riding lessons which are geared towards the care of a horse are also offered.
Kirsten said the lessons are unique in that they cater for autistic children but still offer the same experience as non-disabled riders.
She added: "With other riding schools, the youngsters with autism could be restricted but we don't put labels on it here.
"Kids have advanced in their riding and some have gone on to have their own ponies.
"They are also able to bond with the horses and have really come out of their shell.
"It's important for children to do something different because it teaches them life skills and creates a level playing field."
Adjustments such as being given a riding hat a few days before taking the first lesson – or allowing children to arrive before their lesson to familiarise with the atmosphere – are an important part of Claverhouse's inclusive ethos.
Riding has helped Stuart so much that he now dreams of competing at elite level and adopting another companion for Flame. Sara said: "Stuart would like to own his own horse but keep Flame because he's become so attached to her.
"He'd also like to compete at the Paralympics one day and Claverhouse Centre has helped so much. He has been there in all weathers – even rain or snow."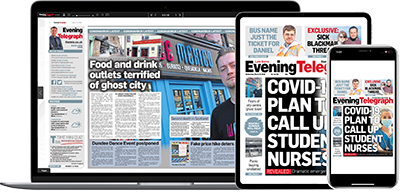 Help support quality local journalism … become a digital subscriber to the Evening Telegraph
Subscribe