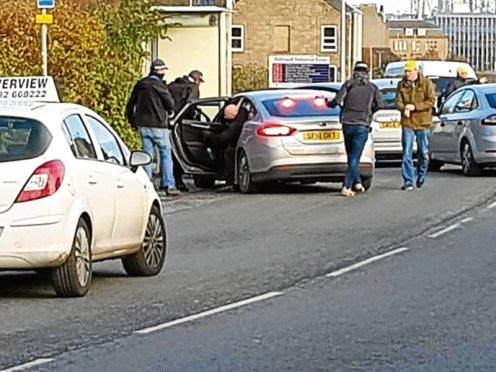 Residents have spoken of their shock after special ops police officers armed with guns swooped on a Dundee street.
The incident took place at Lochee Road in the Polepark area around 2pm on Saturday.
Special ops cops were at the scene wearing balaclavas and carrying weapons.
Police Scotland said the activity was part of a "pre-planned" operation and a man had been arrested in connection with a warrant.
Gavin Brown, 22, from Clepington Road, said he saw at least three police officers wearing masks and carrying guns. He added: "I was walking down the road with my partner and children when these cars pulled up and all these guys jumped out — they were police officers and I saw them carrying guns.
"One came over to tell us to stay where we were and he was also carrying a gun.
"My kids were panicking seeing the guns and hearing all the shouting that was going on.
"I then saw police surrounding a door at the nearby block of flats."
Another eyewitness said she had seen a "heavy" police presence and that the officers were carrying weapons.
She added: "It looked to me like some kind of major operation was going on. Police pulled up at the bus shelter. They were wearing masks and it looked to me like they were carrying weapons.
"There were also big police vans parked outside the flats. The officers went into a block of flats and I could see them at a flat on the top floor."
Another resident said she was walking to the bus stop around 2pm when several police cars pulled up. She said: "I was shocked to see police with guns get out of their cars and surround the area. They also seemed to have balaclava-style masks covering their faces.
"Some police shouted at members of the public to stay back — it was like something off the TV and really quite scary."
A police spokesman said: "At around 2.15pm on Saturday, officers from Police Scotland conducted an operation in the Lochee area.
"As a result, one man was arrested in connection with a warrant. Specialist officers from the operational support division were involved. This was a pre-planned operation carried out under controlled circumstances and there was no risk to public safety at any time."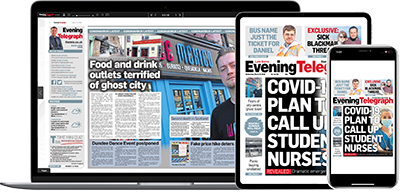 Help support quality local journalism … become a digital subscriber to the Evening Telegraph
For as little as £5.99 a month you can access all of our content, including Premium articles.
Subscribe