Kids across Dundee are being asked to grab a Santa suit and jog through the city centre in the name of charity.
The organisers of the annual Santa Dash on December 2 are encouraging schools and youth clubs in Dundee to get involved in the festive fun.
All funds raised will go towards the Archie Foundation, the official charity of Tayside Children's Hospital in Dundee.
Grove Academy in Broughty Ferry took part in the event last year and is hoping for an even bigger turnout this time around.
Alison McGinnes, pupil support worker at the secondary school, said: "It went really well last year, we had quite a big team and this year we're looking for even more people to get involved.
"We had 42 pupils and staff taking part last year and we want to double that number.
"It's already got quite a lot of buzz in the school and we have had some pupils asking to take part as far back as September."
Alison said a lot of the elements of the dash appeal to youngsters.
She added: "The whole event went really well and was open to everyone.
"It's good that you can choose if you do one lap or two and you can run or walk.
"The event is really fun and the kids love dressing up as Santa.
"It's also good that the event is raising money for a local charity that young people are all aware of."
It's hoped more than 1,000 Santas will get into the Christmas spirit and take to the streets of Dundee this year.
The Evening Telegraph and Wave FM are backing the dash, with Gillies furniture and carpet company as the official sponsor of the event.
The race will start in the City Square and follow a 2km lap through the city centre, which can be done twice to complete the full 4km race.
Garry Smith, communications officer for Leisure and Culture Dundee, said: "It's great fun and a nice, simple thing to do. We're publicly putting the call out for any football clubs and schools to get involved.
"It's a great thing for young people to take part in. It's a team building exercise, it's lots of fun and silly and it helps raise money for a good cause."
This year, there is an extra incentive to get involved.
Garry added: "Anyone raising more than £50 through Virgin Money Giving can get a limited edition T-shirt.
"It's to try to raise as much money as we can."
The money raised will go towards the Archie Foundation's Tayside appeal, which aims to raise £2 million for a new operating suite in the children's hospital.
The Archie Foundation is backing the Santa Dash's appeal for Dundee schools and youth clubs to get involved in the event.
Linda Meiklejohn, fundraising co-ordinator for Archie (pictured), said: "The event has a health focus because you can run or walk, this means it's a positive experience for kids.
"It has a family aspect as well because there is a Christmas theme so it's a good thing for families to get involved in.
"The kids can learn from their surroundings on the dash as well."
The Archie Foundation also says local kids can understand the importance of the cause.
Linda added: "The campaign's focus is to raise money for the Archie Foundation children's hospital appeal.
"This would improve the lives of local kids in the area.
"When I go to schools to talk to the kids about Archie, there's often a lot of children who have had experience of being in hospital, so they can relate to how much better it would be if there was another operating suite."
Bookings can be made online or in person at Central Library, Olympia or Dundee Ice Arena where Santa suits can be collected right away.
Dashers can also start fundraising with Virgin Money Giving at bit.ly/2qltwDY.
For more details go to leisureandculturedundee.com/santadash.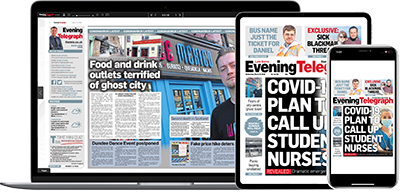 Help support quality local journalism … become a digital subscriber to the Evening Telegraph
Subscribe