Kanye West has revealed he would have voted for Republican candidate Donald Trump in the US presidential election if he had cast a ballot.
Angry fans booed the hip hop singer and threw items on stage after the comments during a stop on his Saint Pablo Tour in San Jose, California.
Videos posted on social media from the gig show the Famous singer talking about the election, politics and "racist" America.
Ten days after Mr Trump's victory over Democratic nominee Hillary Clinton, West, 39, said: "I told you I didn't vote right, but I didn't tell you If I would've voted I would've voted on Trump."
https://twitter.com/txzhaloiconz/status/799558687543136256/video/1
He added that he "loved" Mr Trump's style of debating.
"I hate the fact that because I'm a celebrity everybody told me not to say I loved the debates. I loved his approach."
Several audience members threw items on stage with one hitting the singer.
West also told black people to "stop focusing on racism".
"This world is racist, okay? Lets stop being distracted to focus on that as much. It's just a f****** fact.
"We are in a racist country – period.
"That don't mean that I don't think that black lives matter. That don't mean that I don't believe in women's rights.
"That don't mean believe I don't believe in these things because that is the guy I would've voted for."
West repeated his claim that he would run for president in 2020 and called on politicians to work across party lines to "connect our ideas".
He added: "Some times you think are bad have to happen in order for change to happen. Sometimes you might have to not get your way to really understand what to do in the future to be able to get your way."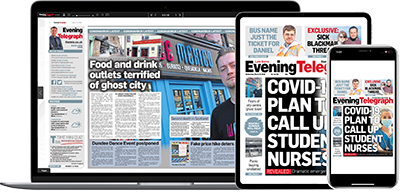 Help support quality local journalism … become a digital subscriber to the Evening Telegraph
For as little as £5.99 a month you can access all of our content, including Premium articles.
Subscribe