Dundee is famous for it's three Js of "jute, jam and journalism" – but it might be adding "jokes" to the iconic title as the city's comedy scene grows in stature.
The city centre is to rock with laughter as stars of the Edinburgh Fringe Festival arrive this week, thanks to Dundee comedy promoter Luis Alcada, 29.
Luis, who runs the Icebreaker Comedy Club, has secured three Fringe stars. He said the arrival of the trio of top comedians would bring "a wee bit of the Fringe atmosphere to Dundee".
International comedy star Al Lubel, as seen on the Jay Leno and David Letterman shows, is coming to Dundee for the first time.
Other performers, including Vladimir Mctavish and Rahul Kohli, will make sure Dundonians are roaring with laughter on Thursday, Friday and Saturday.
Luis, who has been working tirelessly to attract new, local talent to his comedy Icebreaker nights, said: "I saw these guys performing at the Fringe earlier this month and they were fantastic.
"It's a great chance to see some of the performers who have been wowing the crowds in Edinburgh.
"It will be like we are bringing a wee bit of the Fringe to Dundee."
Vladimir McTavish will be bringing his 25 Years of Stand-Up show to Dukes Corner on Thursday. Al Lubel will be wowing the crowds at the King of Islington bar on Union Street on Friday night.
Rahul Kohli is all set to bring down the curtain on Saturday at Henry's Coffee House at the City Square.
Luis added: "This is a great opportunity for the punters in Dundee to see some of the comedians on their own doorstep.
"The Icebreaker nights have been going from strength to strength.
"We hope people in Dundee can be inspired by these upcoming shows."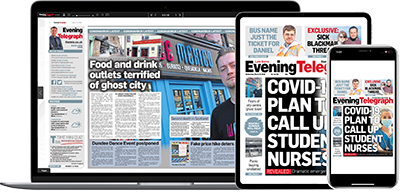 Help support quality local journalism … become a digital subscriber to the Evening Telegraph
Subscribe