Tele readers have come up with their suggestions to prevent the full closure of the Tay Road Bridge during emergency incidents.
It comes after the crossing was completely closed twice this week at key commuter times due to concern for individuals.
The bridge was closed for five hours on Friday morning after police were involved in a stand-off with a man.
It was again closed for around an hour on Tuesday afternoon due to a similar incident.
One reader, named 'MB' wrote in today's paper expressing sympathy with those involved but said the bridge should remain open on one side, with a contraflow system put in place.
They wrote: "Yet again in the paper we read about someone wanting to jump from the Tay Road Bridge.
"It is such a shame when someone feels they want to do this.
"But it is also a shame for the commuters going about their lives trying to cross the bridge for their work or hospital appointments or whatever.
"The traffic should be able to keep going at all times.
"Why not put the barriers up on the side the person is on but allow traffic to travel both ways on the other side?
"This would be better than a total shutdown every time someone is in the unfortunate situation of thinking of jumping from the bridge."
Some believed the road bridge should be completely closed to pedestrians at all times, while Sonya Smart came up with another suggestion.
She wrote on our Facebook page: "Is it not time that barriers are put on the bridge to try and deter this?
"More help for mental health awareness is needed right across the board too."
However, Alex McLaughlan seemed to suggest the bridge should remain closed.
He wrote on our Facebook page: "I'm really concerned about the lack of empathy and that the only concern is the need to get home.
"How would you feel if it was one of your loved ones?"
While Frank Burns wrote simply: "This is becoming a daily occurrence, why is nothing being done to prevent these poor souls ending up on the bridge?"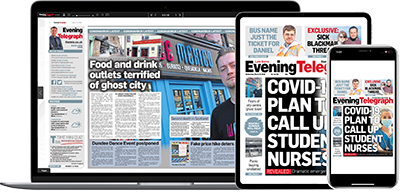 Help support quality local journalism … become a digital subscriber to the Evening Telegraph
For as little as £5.99 a month you can access all of our content, including Premium articles.
Subscribe