A jilted father who caused nearly £21,000 worth of damage and brought city centre streets to a standstill during a rooftop siege was jailed for 20 months today.
Father-of-three Danny Stewart stood on the roof of his mother's house and hurled chimney pots and slates during a seven hour stand-off with riot police.
Sheriff William Wood also added a ten-month supervised release period and told Stewart: "Members of the public were at significant risk of harm. You need to be supervised upon your release.
"For such a young man you have an appalling record. It seems to me that you are a young man who has difficulty controlling his impulses.
"If you don't get a grip controlling these impulses it is going to go on forever and you will have less and less time in the community and less time to be a parent.
"The cost of the damage amounts to almost £21,000. A large part of the area had to be cordoned off due to the risk posed to public safety.
"Residents were unable to return home. A significant police presence was required. This was prompted by your own selfish conduct."
After being sentenced, Stewart said: "That's alright. It's not that long."
Stewart, 24, trashed three police vehicles, causing more than £17,000 damage to them, by hurling clay chimney pots and slates from the roof after being dumped.
Several streets had to be cordoned off as a large crowd gathered to watch Stewart's "bizarre and extreme" reaction to being jilted.
Another three vehicles – including Stewart's own Ford Transit van – were damaged as he bombarded the street below with heavy pottery from the rooftop.
Sheriff William Wood told Stewart: "Clearly this was a bizarre and extreme reaction to the news you had that your partner was absent.
"It's not normal to climb onto roofs and throw things at people for as long as you can, in this case extending to several hours."
Stewart, of Stanley Crescent, admitted that on August 27 this year he breached the peace by climbing onto the roof shared by flats at numbers 13, 15 and 17 Stanley Crescent in Perth for several hours.
He admitted refusing to come down and repeatedly hurling chimney pots and slates at vehicles parked below and damaging them, while shouting and swearing.
Fiscal depute John Malpass told Perth Sheriff Court that Stewart climbed onto the roof at 11.15 am when police arrived at his mother's home to speak to him.
"He began to remove chimney pots and slates and began to hurl them towards three marked police vehicles.
"They were struck several times. Police secured a cordon to protect the public. The roof overlooks a children's play park. A crowd gathered.
"Police who had been hiding behind their vehicles were extracted by a public order detachment using riot shields as the accused was targeting them." Trained negotiators finally talked Stewart down at 5.50pm.
By then he had caused £8,712 damage to one police car, £7,748 to another and £800 to the police van. He also damaged a Hyundai, a Volkswagen and his own Transit. The local authority said the damage to the roof amounted to 2,940 pounds.
Mr Malpass said the public were deprived of the services of a large number of police, fire crews and ambulance personnel for several hours while some residents had to get medication delivered by riot police.
"He was continuing to use items from the roof as projectiles throughout the period. Two police cars were rendered unusable until they were repaired."
Solicitor Paul Ralph, defending, said Stewart had now reconciled with his partner of six years and that he planned to resume caring for his children as soon as he was released from prison.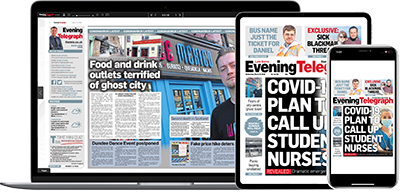 Help support quality local journalism … become a digital subscriber to the Evening Telegraph
Subscribe