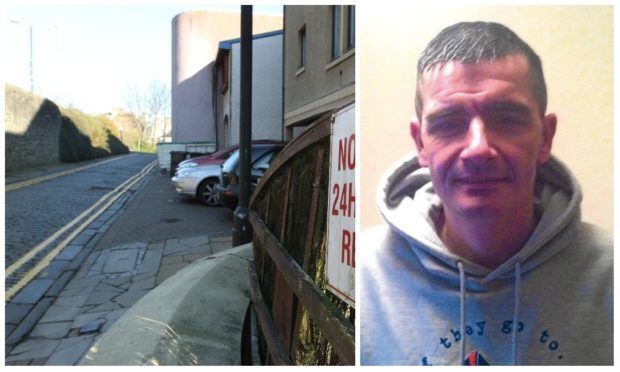 A racist thug hurled abuse at another man — before doing the same to a policeman who turned up to arrest him.
Gordon Marr, 43, aimed the four-letter, foul-mouthed tirade at Rashid Ishmail, branding him an "Islamic ****".
When Mr Ishmail called the police, Marr attempted to resist arrest — and uttered a racist remark at a police officer, PC Isman Ali, who had arrived to investigate.
Fiscal depute Kate Irwin told Dundee Sheriff Court that Mr Ishmail had gone outside to collect his children at Artillery Lane on Tuesday.
Marr then launched a racist tirade at him.
She said: "(Mr Ishmail) heard the accused shouting '******* black *******', 'Islamic ****' and other offensive remarks.
"He phoned the police as he was upset and when the police arrived the accused called PC Ali a '**** *******'."
Solicitor Douglas McConnell said Marr had experienced a "relapse" in his abusive relationship with alcohol.
He added: "Unfortunately, he remembers very little of this."
Sheriff George Way told Mr McConnell that he would adjourn the case for reports, explaining that it wouldn't be in "the public interest in the long run" to send Marr to prison.
The sheriff added: "If he is making the progress you say he is making, it wouldn't help the public interest in the long run — prison won't deter him."
Marr, of Adamson Court, Lochee, admitted that he acted in a racially aggravated manner towards Mr Ishmail, shouted and swore, uttered threats and repeatedly made racist remarks at Artillery Lane on Tuesday.
He also admitted that he resisted arrest by struggling violently with two police officers, lashed out with his arms and refused to move at Artillery Lane on the same date.
He further admitted acting in a racially aggravated manner towards PC Ali, acting in an aggressive manner, uttering threats, shouting and swearing and repeatedly making racist remarks.
Not guilty pleas to two other charges were accepted by the Crown.
Marr was bailed and the case was adjourned until May 15 pending criminal justice and social work reports and a restriction of liberty assessment.