The sound of slot machines could be making a comeback to a city centre street if councillors approve plans for a new arcade.
An application has been submitted to Dundee City Council seeking to turn the former News Shop on Reform Street into an amusement centre.
The plans were put forward by Gauldie Wright and Partners Architects Ltd on behalf of Slot Leisure Ltd, which already operates an amusement centre across two units within the Keiller Centre offering a variety of slot machines and other coin-operated games.
If successful, Slot Leisure would become the first arcade on Reform Street for some time.
The Hynd Brothers amusement centre closed more than a decade ago but still bears some of the signs from its time as an arcade, and Booth's amusements, which was in the unit now occupied by Coral Bookmakers, also closed its doors some years ago.
Grant Mitchell, director of historic Reform Street menswear store Cooper & McKenzie, remembers when Hynd Brothers, a five-floor arcade, was a huge pull for the city.
"Colin Hynd and his brother ran the amusements there and in a premises on Shore Terrace as well," Mr Mitchell said. "The arcade on Reform Street was one of the first in the city to have Space Invaders."
In its submission to the council, Slot Leisure Ltd said it planned to reduce its operation at the Keiller Centre to just one unit if its Reform Street application was successful.
But Kathryn Baker, chief executive officer of Tayside Council on Alcohol, which also provides information about gambling issues, said: "For the older population who still use betting shops it's the slot machines which create a significant issue, with people reporting addiction and large financial losses.
"Clearly, the opening of an arcade filled with such machines will make this type of gambling more accessible in the city centre."
Slot Leisure declined to comment.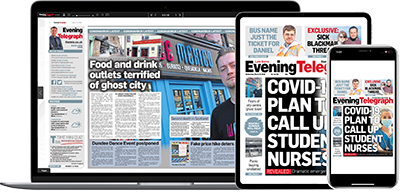 Help support quality local journalism … become a digital subscriber to the Evening Telegraph
Subscribe