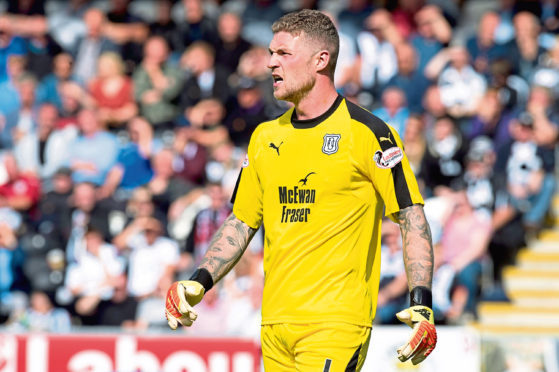 It's been a tough start to Premiership life with Dundee for Jack Hamilton – he's got the character to handle the flak thrown at him this week, though.
That's according to former Dens keeper Derek Soutar – someone who knows exactly the kind of man Hamilton is.
As a youngster, the new Dark Blues goalie was brought in as injury cover to Soutar's then side Forfar Athletic in 2012 and immediately impressed 'Soapy'.
Dundee fans, however, are yet to see the best of Hamilton after a howler on his league debut gifted St Mirren all three points.
Soutar, though, insists he's got the strength of character to get beyond the early setback.
'Soapy' said: "It was one of those things, a horrible mistake to happen on his league debut.
"In pre-season he'd played fine but last Saturday I guess he tried something and it didn't come off.
"I think he'll be back in this weekend, no problem. He's got the character to brush this off and against Aberdeen on Saturday, he'll have no qualms going back in there and making saves.
"Fans can be very fickle and obviously as a keeper mistakes are highlighted because they cost goals but Jack has the ability to go and be a hero this week.
"In pre-season he obviously did something right to convince Neil McCann to put him in and take over from Elliott Parish.
"Neil took Jack into the club to play and one mistake isn't going to change that.
"Over the course of the season I have no doubt he'll save more points for Dundee than he'll cost them."
Soutar admits Hamilton is suffering the "life of a goalie" at the moment, a position where an error more often than not leads to conceding a goal.
However, as a Dundee fan himself, Soutar is backing the Dens faithful to get behind their new keeper this weekend and manager Neil McCann to stick with Hamilton between the posts.
"Everybody makes mistakes and there will be some supporters who will be on your back from the first minute but as a goalkeeper you just have to go back in and make saves for your team," he added.
"Dundee fans, though, always forgive – it's a speciality of the Dee support.
"He lost the ball and lost a goal but if he goes and megs a boy on Saturday everybody will love him!
"I think the manager will stick with him – it highlights the error more if he makes a switch.
"Neil had obviously seen enough in Jack to start him this season and I think he should stick by that decision, at least for the first few games.
"I had a terrible week myself at Dunfermline when Jim Duffy was manager at Dens – he could've dropped me but he stuck by me and I ended up being Man of the Match against Motherwell the next week.
"The worst thing for Jack would be to drop him – let him get it out of his system and go play.
"It's the life of a goalie – everyone forgets the good stuff when you make a mistake."
Getting used to a new way of playing takes every player a bit of time to adjust – with the league campaign already under way, however, Soutar admits Hamilton will need to get used to playing out from the back quickly.
"At Hearts over the last few years, the team has been a more physical side rather than the footballing team Dundee like to be.
"Jack has to adapt to that very quickly, though. The manager likes to play out from the back and he'll have to get used to it.
"Sometimes, though, as a goalie when you're under pressure, you just have to stick it in row Z and deal with the flak afterwards.
"Jack will learn from it, though.
"It's still early days for him. It's only one game and I'd back him to put in a performance on Saturday."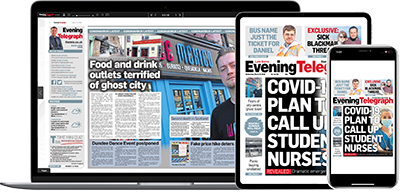 Help support quality local journalism … become a digital subscriber to the Evening Telegraph
Subscribe