A Birkhill mum, whose son's life was saved by Ninewells staff, is donning a Santa suit in the name of charity.
Retired Irene Spence, 62, has been grateful to staff at the hospital ever since her son had to have a major operation at only four weeks old.
She is now volunteering to take part in the Santa Dash on December 2, to raise funds for the Archie Foundation.
She said: "I am so thankful for the children's ward at Ninewells.
"My son, Robbie, had a very complicated condition when he was born and he had to have major surgery at four weeks old.
"At first the hospital didn't know what was wrong with him because he couldn't keep food down and was vomiting.
"He was in and out of hospital during the first few weeks.
"They had to open him up and discovered he had a twisted bowel – they thought he might need to have a colonoscopy, but thankfully he didn't.
"He went from about 8lbs to 2.5lbs when he was unwell and was in an incubator. Without the operation, he wouldn't have survived."
Robbie is now a happy and healthy 23-year-old, despite suffering from further issues when he was 18.
Irene added: "He was fine until he was 18 years old. The scar tissue had flared up and he had to have another operation because he was in agony."
She is so thankful for the treatment her son was given that she has organised small fundraising events for the Archie Foundation for years.
Irene said: "The treatment could not have been better. I have so much to be thankful for. I'm eternally grateful for the Ninewells staff, I can't praise them highly enough.
"The Archie Foundation is brilliant and it's great that they have nearly reached their target. They are such a dedicated group of people.
"We've done sponsored runs, cake and bake stalls and the Oor Wullie trail to raise funds for the charity.
"Local causes are really important. That's another reason why the Archie Foundation is so good, because funds stay local.
"If you can raise money for them and have a bit of fun at the same time, even better."
The funds raised will go towards the Archie Foundation's Tayside appeal, which aims to raise £2 million for a new operating suite in the children's hospital.
The Evening Telegraph and Wave FM will support the dash, with Gillies furniture store as the official sponsor of the event.
The race will follow a 2km lap through the city centre, starting and finishing at City Square.
Garry Smith, communications officer for Leisure and Culture Dundee, said: "The Archie Foundation is great because it touches so many people from all walks of life in the city. I think that's why people take part."
Linda Meiklejohn, fundraising co-ordinator for Archie, added: "It's really important for us to make sure people know we are here to make kids' lives better in hospital.
"People with previous experience know that children will have better facilities at the hospital thanks to the Archie appeal.
"I absolutely think the Santa Dash is important because it gets more people involved in the cause."
Bookings can be made online or in person at Central Library, Olympia or Dundee Ice Arena where Santa suits can be collected right away.
For more details go to leisureandculturedundee.com/santadash. Dashers can also start fundraising with Virgin Money Giving at bit.ly/2qltwDY.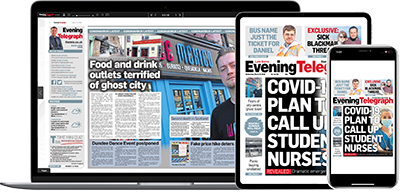 Help support quality local journalism … become a digital subscriber to the Evening Telegraph
Subscribe