A Dundee man who has spent most of his life battling mental health issues has spoken out in a bid to get help for other sufferers.
Tony Deans, 43, from Whitfield, told the Tele that his own issues led to him serving a prison sentence for a crime he said he now sincerely regrets.
Now, he is desperate to turn his own life around and break free of the mental health problems that have plagued him since his teenage years. But he is concerned about what he feels is a lack of psychiatric help available to people in the city.
Tony has started volunteering at the mental health charity Hearing Voices Network but said: "Folk in Dundee, including myself, are screaming out for mental health support that's not there.
"I feel my experiences give me the ability to listen to others.
"In no way am I looking for sympathy or to excuse what I did but I want to tell my story to expose the lack of help available in Dundee for people with psychiatric problems.
"I've been begging for help but I keep having appointments cancelled and I feel I've got nowhere left to turn.
"I've been working hard to keep myself well and on the straight and narrow but I need support."
Tony said his problems started in his middle teenage years and seriously deteriorated through his 20s and 30s.
He said: "It was only after I was jailed for 28 months for assaulting a barmaid, a customer in a bar and three police officers sent to arrest me that I was finally diagnosed in prison with mental illness.
"While in Castle Huntly I saw a mental health nurse on a regular basis and was eventually diagnosed as being bipolar, having post-traumatic stress disorder and obsessive-compulsive disorder as well as emotional dysregulation disorder, which is emotional hyperactivity."
Tony said that, just before he was released last August, he was told he would be given mental health care and support once he was back home.
He added: "That hasn't happened. In the year since I was released I have had three appointments with a psychiatrist at the Alloway Centre cancelled.
"Another appointment has been made for November but I'm not holding out a lot of hope." Tony said that in the years leading up to his diagnoses he suffered bouts of serious depression.
He said: "Things would just feel very black and twice I attempted suicide – once on the day the assaults took place when I had been to ask for help and it was refused.
"It was after that I went to the pub, mixed alcohol with prescription medicine and committed the offences. I went home, took an overdose and the police arrived."
Arlene Mitchell, locality manager with Dundee Health and Social Care Partnership, said: "Owing to patient confidentiality, we are unable to comment on matters relating to individual patients.
"However, there is a national shortage of consultant psychiatrists and there is currently a vacancy at the Alloway Centre.
"A new locum is due to start at the beginning of September which will help reduce waiting times. The multi disciplinary team continues to support patients waiting to see a psychiatrist.
"If a person's circumstances change or worsen they should contact the team to seek advice, where an experienced mental health nurse is always available. Any wait can be difficult for people and we apologise for that.
"This patient should contact the service directly to discuss his concerns."
Spiralling into a life of violence, drugs and firearms offences
Tony became aware he was struggling with mental health issues at the age of 15.
Unfortunately, it frequently manifested itself in acts of crime and violence.
By the age of 18 he had been convicted of firearms offences and when he was 21 he was jailed for 39 months, having been caught with drugs in his car.
Tony said: "My life spiralled out of control and I had spells when I would feel really high followed by really low times."
Things went seriously wrong for Tony in 2009 when his uncle committed suicide.
"That affected me really badly and it was because of that I was later diagnosed with post-traumatic stress disorder," he said.
Tony said that things came to a head for him in 2015 when he became very withdrawn and started to have suicidal thoughts.
He added: "I went to the doctor and he doubled my medication. I was also referred to the Alloway Centre for psychiatric help."
Tony said that on February 4 2016 he discovered he was going to have to wait even longer for an appointment with a psychiatrist.
"I felt so dejected and neglected that I went to the pub and began drinking on top of my medication, thinking it might help," he said.
"I ended up hitting a guy and people in the pub tried to eject me.
"I punched a glass panel in a door not realising that the barmaid was behind it.
"She ended up badly injured. I went home and took an overdose and it was then that
the police came to arrest me and I assaulted them.
"There's not a day goes by that I don't regret what happened."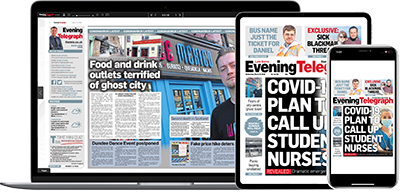 Help support quality local journalism … become a digital subscriber to the Evening Telegraph
Subscribe