Tinnitus sufferer Robert Mattinson has told of his constant battle with what he describes as "the invisible disability".
The 63-year-old former heavy industry worker endures non-stop noise in his ears following years of deafening decibels from machinery that virtually destroyed his hearing.
He spoke to the Tele during Tinnitus Week, an awareness campaign organised by Action on Hearing Loss Scotland.
Robert, from Inchture, said he has had the condition for more than 20 years, as a direct result of working in heavy industry since 1973.
He said: "It is very frustrating and there have been instances of other people taking their own lives in the past because of the suffering.
"I worked in various other 'shops' like manufacturing and weaving and back in the 70s the health and safety aspect of the job was never in place for protection like ear defenders.
"It was only when we got to the back end of the 80s and early 90s that there was more focus on it. But, up until then, tinnitus wasn't even recognised.
"And it is a problem that you cannot explain really.
"I think the best way to describe is like when you have been in a nightclub for four hours where there's loud music constantly then when you go home you have that buzzing sound in your ears.
"Although that goes away over the next day, tinnitus sufferers have that 24/7 and you can multiply that by two for the noise level. It really is a disability.
"I have to just block it out. There is a relaxing tape that you can put into your pillow and that does help a wee bit."
The NHS out-of-hours driver added: "In the end, you have just got to cope because it's permanent and you are not going to get rid of it.
"You find when you go to sufferer's houses the TV is blaring because they can't hear the sound above the tinnitus."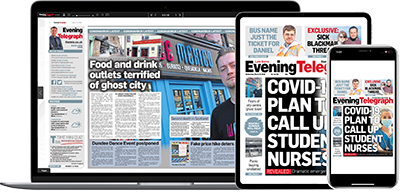 Help support quality local journalism … become a digital subscriber to the Evening Telegraph
Subscribe