Community groups, work colleagues and local clubs are being encouraged to get together and jog through Dundee dressed as Father Christmas.
The annual Santa Dash is returning to the city on December 2, with hundreds of people wearing costumes and taking to the streets to raise money for The Archie Foundation, the official charity of Tayside Children's Hospital.
Gillies furniture and carpet company is the official sponsor of the dash, which is also being backed by the Evening Telegraph and Wave FM.
This year, the organisers are encouraging people to raise funds through Virgin Money Giving.
Garry Smith, events and promotions officer for Leisure and Culture Dundee, said: "We're hoping as many people as possible will sign up so we can raise the most we can for The Archie Foundation.
"Using an online fundraising page, it's easy for friends and family to get together and raise money.
"Doing it online is definitely an incentive to raise funds and it would be great if we could collect even more money this year.
"It can make it easier for groups to take part because you don't have to deal with cash."
This year, a limited edition T-shirt will be given to anyone who raises more than £50 through Virgin Money Giving.
Garry added: "The T-shirt is a way of saying thank you to people for making the extra effort.
"We will get in touch with everyone about the T-shirts after the event because some funds were raised after the dash last year."
All funds will go straight to The Archie Foundation and the organisers are hoping to raise at least £8,000.
The charity is aiming to raise £2 million for a new theatre suite at the children's hospital, which is attached to Ninewells.
Linda Isles, director of communications for The Archie Foundation, said: "Last year, we focused more on sign-ups. This year, we're encouraging people to fundraise more, if they are able to.
"Using Virgin Money Giving would be particularly good if a group is involved.
"Some youth football teams did that last year and so did some workplaces.
"A lot of workplaces have Christmas parties about this time of year and it would be good if they got together to take part in the event as well. It's pretty cool that people will get a T-shirt if they raise £50. People are enthusiastic about it."
Linda said there were lots of incentives to raise money for a good cause.
She added: "The whole online fundraising thing this year will make things easier.
"My sister and I raised about £1,000 for The Stroke Association several years ago and it was such a wonderful feeling."
The race will start in City Square and follow a 2km route through the heart of Dundee, with the option of completing two laps.
Paul Lawler, from Virgin Money, said: "Virgin Money Giving is designed to help charities raise us much money as possible.
"You can track how much has been raised, whereas cash is harder to keep track of.
"We're the largest not-for-profit fundraising platform in the UK, so we don't charge. We also facilitate gift donations."
People are being encouraged to set a fundraising target, so they can track their efforts.
Bookings can be made online or in person at Central Library, Olympia or Dundee Ice Arena where Santa suits can be collected right away.
For more details, go to leisureand culturedundee.com/santadash.
To raise money for The Archie Foundation through Virgin Money Giving, visit bit.ly/2qltwDY.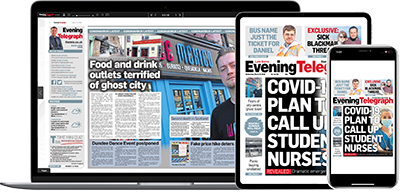 Help support quality local journalism … become a digital subscriber to the Evening Telegraph
Subscribe