The victim of chainsaw maniac Joe Brown had previously said he hoped his attacker would be locked up for "a very long time".
Brown, a father of three, repeatedly struck 61-year-old Arthur Innes with the power tool on May 2 at Caird Park Golf Club. Mr Innes sustained injuries to his head and arm as well as a laceration to his shoulder.
Mr Innes, from Kirkton, spoke to the Tele soon after the attack and again when Brown pleaded guilty last month.
Mr Innes said: "What he put me and my friends through that day was petrifying.
"I will never forget the look on his face with his eyes popping out of his head.
"He could have had my arm cut off, blinded me or even killed me.
"Had I fallen, I assume he would have chopped me up."
At the High Court in Glasgow on Friday, Brown's lawyer asked that his client's mental state and heavy cocaine use be taken into consideration, which he claimed had left Brown paranoid and thinking people "were out to get him".
He said that the stress of his business and relationships with his partner and child had also taken their toll and led to his drug addiction.
He claimed Brown, 45, "took full responsibility for his actions" but said the drug use could "go some way to explaining his actions". Brown also admitted an amended charge that on the same date at the same location, he assaulted Andrew Hay.
Brown told Mr Hay "I'm asking you for help", before attacking him and running off, the court was told. Brown then ran on to the Kingsway, forcing a driver to take evasive action.
Prior to his arrest Brown sat outside the home of Kingsway resident Michelle Hunter, where he told her he had "attacked someone with a chainsaw on a golf course", and asked that she "hit him over the head with a large stone and kill him".
Speaking to the Tele at the time, Ms Hunter, 54, also recalled the moment she found Brown on her doorstep soon after his drug-fuelled attacks.
"I phoned an ambulance and he collapsed at that point. When he came round he was rambling about God hating him and making him do 'bad things'," Michelle said.
"After a wee while he told me he thought he'd killed two people in the park.
"He picked up a boulder that was beside him and begged me to hit him over the head with it and kill him so he could stop doing bad things.
"All this took about 25 minutes of me keeping him calm and getting him to stay where he was."
Sentencing Brown to eight years and three months in prison, Lord Matthews said: "Attacking people on a golf course with a chainsaw, it's like something out of a horror film.
"The fear the complainers felt must have been unimaginable."
The judge ordered that Brown be subject to a further three years extended sentence on licence once eligible for parole, adding: "It's obvious you have issues with the consumption of large amounts of drugs in this case. If you get into this sort of state again you could do something similar."
He sentenced Brown to three further sentences of eight months each for the attack on Mr Hay, behaving in a threatening or abusive manner, and cultivating cannabis. He was also sentenced to 12 months for supplying cannabis, with all five sentences to run concurrently.
The judge admonished him on the drugs possession charges.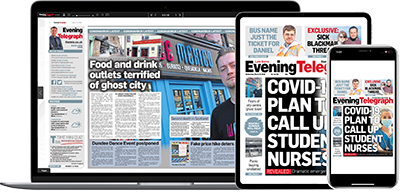 Help support quality local journalism … become a digital subscriber to the Evening Telegraph
For as little as £5.99 a month you can access all of our content, including Premium articles.
Subscribe