A car transporter carrying several high-value vehicles collided with a railway bridge today causing major disruption to rush-hour traffic.
The transporter – operated by vehicle haulage firm Carlson – struck the bridge on Marshall Place in Perth around 8am.
It had been carrying a payload of apparently new cars, including Range Rover and Jaguar SUVs. One vehicle had its roof torn off by the impact with the bridge.
Taxi driver Charlie Stevenson, 55, had been parked at the rank at Perth railway station when he heard an "absolutely almighty crash" down the road.
He said: "I came off the rank and round the car park and saw the lorry stopped. The Range Rover has had the roof torn clean off and the car behind it was pretty badly damaged as well.
"They looked like quite new cars. It sounded like an explosion."
Charlie added that lorries had collided with the bridge on "several" occasions in the last year.
He said: "I've been a heavy goods lorry driver and you should always know the height of your vehicle, regardless of whether you're carrying cars or anything."
Another eyewitness, who declined to be named, said: "There were seven Range Rovers on the transporter.
"Two of the cars are totally wrecked – they look like write-offs.
"One lane is blocked and traffic is building up quite severely – it's a bit of a mess."
Police were directing traffic around the lorry as Network Rail engineers assessed the extent of the damage.
A spokeswoman for Network Rail said trains were able to run at a reduced speed of about 5mph while inquiries were carried out but the bridge has since been cleared for normal operation.
Network Rail later posted on social media: "Following a lorry striking a bridge in #Perth (the) bridge has been inspected and has been passed fit for rail traffic.
"Can't say the same for the vehicle(s) that struck it #CheckYourHeight."
Police confirmed no one was injured, while a spokesman for Scotrail said services had not been seriously disrupted.
A spokesman for Carlson, which is based in Essex, said: "We are aware of the incident. We are in the very early stages of our investigations and it would be inappropriate to comment further."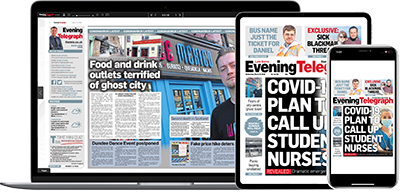 Help support quality local journalism … become a digital subscriber to the Evening Telegraph
Subscribe