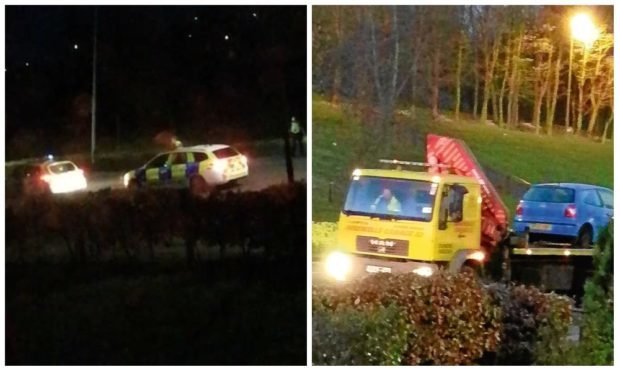 A man has been arrested following a car crash in Dundee — with one eyewitness describing the impact as "like a bomb going off".
The collision took place in South Road, near the junction with Buttar's Loan, Charleston, around 4am on Monday.
The car smashed into a lamp-post at the side of the road, damaging it.
A 25-year-old man was detained at the scene.
A spokesman for Police Scotland said the man was charged with driving offences at police headquarters in West Bell Street.
He is expected to appear at Dundee Sheriff Court later this week in connection with the alleged offences.
A passenger in the vehicle was not injured in the collision.
One resident who lives near the scene of the incident said a "horrible" noise woke her and her family up.
The woman said that about eight police vehicles had attended the incident.
She said: "The noise was like a bomb going off. Police were quickly all over the place.
"I'm not sure if the police were just passing because I heard the bang and I thought it was a lorry that had crashed and overturned and was sliding along the road — it was so loud and long.
"The police were here in about five minutes or maybe less. There were about six police cars and two or three vans.
"The noise was so loud it woke everyone in my house up. It was a horrible noise."
The lamp-post was dented and left at an angle and there were visible tyre tracks on the grass verge at the side of the road.
Staff from Tayside Contracts attended to repair the damage on behalf of Dundee City Council.
The police spokesman added: "Police Scotland attended in the South Road area of Dundee shortly before 4am on Monday April 23 in response to a reported road traffic collision.
"A car had collided with a lamp-post, causing damage.
"The 25-year-old male driver of the car was arrested for road traffic offences and was subsequently released pending further inquiry."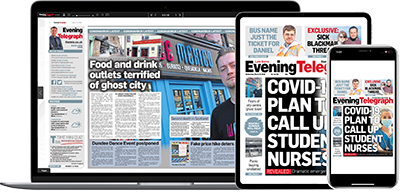 Help support quality local journalism … become a digital subscriber to the Evening Telegraph
For as little as £5.99 a month you can access all of our content, including Premium articles.
Subscribe