If you're a Laing, a Laird, a Lynch or a Lamb then congratulations – your surname is among hundreds to be honoured on a new Lochee wall of fame.
A project researching the diverse family histories in the area has thrown up an estimated 400 names thought to have a special association with the community over the past 150 years.
Now those names will be commemorated with a specially designed mural at Thomson Park, the home ground of Lochee United Junior Football Club.
Project organiser Jayne Kelly, of the Save Our High Street Lochee group, said it was hoped as many families as possible would be included in the artwork, to be created by artist Symon Mathieson.
Although the figures have not yet been finalised, she said there would be about 360-400 family names
Jayne said: "There is a rich diversities of families in Lochee who have lived and worked in the area for generations.
"There are families from all over, including Ireland, Italy and Poland.
"These families made Lochee what it is and we want to commemorate them on the wall at the football club alongside the artwork currently going on there."
Other weel-kent Lochee names to be commemorated include Drummond, Duffus and Duffy, as well as Gonzales, Gillfeather, Gordon and Gormley.
Jayne said there had been an overwhelming response to the project.
"There is a general impression that Lochee is deprived and that's just not the case when it comes to our people," she said.
"We may be deprived in monetary terms but we are far from deprived in terms of culture and the people who live here.
"While gathering the names some interesting and entertaining stories came to light and we hope to highlight some of them in the near future.
"The mural won't just be a list of names but the lettering will be incorporated into a work of art that has yet to be confirmed.
"By the time the art on the wall is completed it will encompass the rich and varied history of Lochee covering about 150 years."
The project is the latest effort by the Save Our High Street group to change people's opinion of Lochee.
Future proposals include an art festival to display the work of well-known local artists.
Jayne added: "This has still to be discussed but we would hope it could be up and running by next year."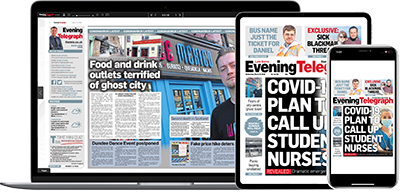 Help support quality local journalism … become a digital subscriber to the Evening Telegraph
For as little as £5.99 a month you can access all of our content, including Premium articles.
Subscribe