Trade union leaders in Dundee have revealed they are in "intensive talks" with members about what action to take following last week's city council budget meeting.
Councillors approved the budget which slashed £8.8 million from the local authority's spending for the coming year.
LIVE UPDATES: Dundee council meets to decide on £10.3m budget cuts
To make the savings, the council has been forced to cut many services – including education and care.
It will also reorganise staffing structures in a bid to save £2m.
The council hopes to save another £2m a year by scrapping principal teacher roles and creating new "faculties" in high schools.
Dundee's eight high schools each have 17 principal teachers and the SNP administration is proposing to end the roles and instead create eight "curriculum leaders" in each school.
Jim Macfarlane, of Unison, said: "The joint trade unions in Dundee – Unison, Unite and the GMB – are now holding intensive talks with our members.
"Last week's budget decision caused a lot of anger.
"Our members are ready for a fight and are currently considering what their options are.
"We are holding joint meetings with the other trade unions involved and we will then be in a position to ballot our members over the next step.
"We will be holding a meeting next week and we hope to be in a position to decide what happens next by the end of March."
David Baxter, of the EIS, added: "We are really disappointed by last week's decision.
"We are now waiting for Dundee City Council to come back to us and explain how it plans to implement its proposals.
"Once we receive the details we will go back to our members and then decide what our next steps will be."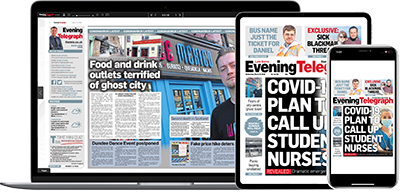 Help support quality local journalism … become a digital subscriber to the Evening Telegraph
Subscribe