Colourful, inspiring messages have been scattered across the Tay Road Bridge in a bid to offer hope to anyone contemplating suicide.
The handwritten notes have been placed on the bridge and around City Quay and include messages such as "Keep your eyes on the stars and feet on the ground" and "You are beautiful, keep smiling".
The notes have been left by 26-year-old Kirsty Reid and her girlfriend Katie St John, 25, who both struggle with mental health issues, as part of their campaign #ProjectTAG.
Kirsty, from St Andrews, was inspired to try to help others after she contemplated taking her own life at the bridge.
She said: "I've had two experiences on the bridge.
"My most recent one was in the last four weeks and was very frightening.
"I just remember being on the bridge and then people intervening and negotiating with me until the police got there.
"Maybe if something had stopped me in my tracks I wouldn't have gone as far as I did.
"It's not something I'd like anyone to face and that's why I'm trying to do something.
"Even if I help one person, it means I've succeeded in what I am trying to achieve."
After viewing a video on Facebook about a similar project, Kirsty was determined to kickstart one locally.
About 300 poignant notes were placed on the Tay Road Bridge and on a trail through St Andrews harbour and Leuchars station on Saturday.
The mum-of-two added: "A small group of us, including my boys, met at St Andrews beach and headed up through the harbour and castle leaving our trail of tags.
"It is not only to support mental health and prevent suicide but also to give people a little uplifting quote in case they need it.
"As my mental health isn't the best and I struggle with anxiety and other issues, there's not a lot I can do in the community so this just seemed perfect for me.
"We have placed about 300 tags in places we find appropriate and we will be covering different areas.
"The biggest message #ProjectTAG wants to portray is that it's OK not to be OK."
Further events are planned and #ProjectTAG hopes to deliver similar notes to the Law and other parts of Tayside.
Katie, who frequently travels from her home in Wrexham, Wales, to visit Kirsty, said they are looking for help in identifying more locations to leave inspiring notes.
She said: "I've struggled with mental health issues myself. We really couldn't have done what we have already without the help of our friends driving us there and writing the notes.
"We'd love people to get involved with the Facebook group and we might soon try to raise money for a mental health charity.
"We're really looking to see if there are any places where people might think would benefit from having notes."
Emergency services are frequently called out to the bridge following reports of concerns for people.
In June, the chairman of the Tay Road Bridge Board, Stewart Hunter, said everything is being done to assist people with mental health issues.
If you feel suicidal, or need someone to talk to, contact the Samaritans on 116123, or email jo@samaritans.org.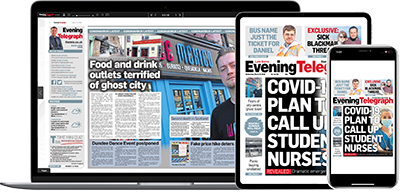 Help support quality local journalism … become a digital subscriber to the Evening Telegraph
Subscribe