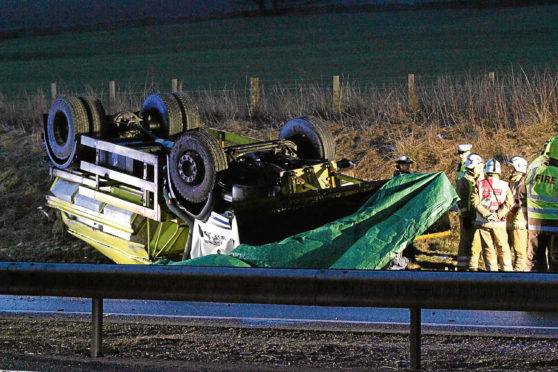 A Dundee gritter lorry driver died after his vehicle flipped in snowy conditions — according to the findings of a fatal accident inquiry.
David Keith, who was employed by Bear Scotland, died on the morning of February 4 2015 after his truck overturned in heavy snow on the A90, near Forfar, south of its junction with the unclassified road leading to Bogindollo.
Mr Keith's death led to a fatal accident inquiry being held in Forfar before Sheriff Gregor Murray.
In his determination, Sheriff Murray said Mr Keith's death was caused by multiple injuries and blunt force trauma sustained in the accident.
He added the cause of the accident was Mr Keith's failure to maintain control of the gritter lorry.
The court heard Mr Keith had been driving the lorry when a colleague — Frank Clark — encountered heavy snow and requested assistance.
Mr Keith attended to support Mr Clark and the pair then drove in tandem north on the A90 from Laurencekirk to Newtonhill, where they turned round and started clearing the A90 south.
After Mr Clark ran out of grit, the pair decided to split up and link up again further down the route once he had stocked up.
The court then heard Mr Keith reached the junction of the unclassified road and witnesses saw the nearside tyres of his lorry leave the carriageway and drop down slightly on to a soakaway covered by stone chips.
According to the determination, Mr Keith drove back on to the carriageway, over-corrected and swerved towards crash barriers.
Although he managed to turn his lorry left before it hit the offside kerb, the vehicle then crossed over to the nearside of the carriageway and mounted a verge.
Mr Keith's vehicle overturned and the roof of his cab collapsed on to him.
The court heard that witness Gordon Stewart stopped his car immediately and his passenger Stephen George called the emergency services.
Lorry drivers James Carr and Michael Allan both also stopped at the scene.
After checking Mr Keith and finding him to have no pulse, Mr Carr also called emergency services.
Paramedics and police arrived within five-10 minutes but, despite attempts to resuscitate him, Mr Keith died.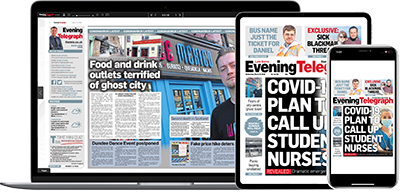 Help support quality local journalism … become a digital subscriber to the Evening Telegraph
Subscribe