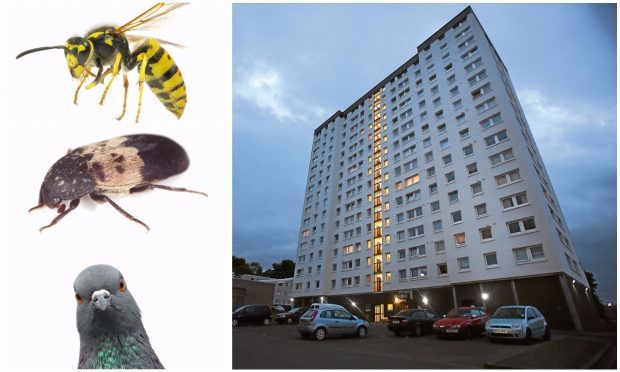 Two of Dundee's multis are the city's worst pest hotspots, new data has revealed.
Information obtained by the Tele on the council's pest control callouts showed that Tulloch Court in the Hilltown and Adamson Court in Lochee had the most callouts in the last four years.
As a whole, the two multis are solely responsible for 290 callouts between July 2014 and July 2017, and the number of callouts is on the rise.
The majority of calls to multis were related to live birds, as well as to dermestes beetles, often found in unhygienic conditions where food sources are rich.
Andy Law, who runs his own pest control firm in Perth, said high-rise flats often create ideal breeding conditions for both birds and beetles.
He said: "What you have with the high-rise flats usually depends on the age of the flats.
"With older buildings, birds such as pigeons like to find ways into the roof spaces and, because nobody uses the roof spaces, it goes unnoticed.
"Dermestes beetles are a very common problem in high-rise accommodation, as they are protein scavengers.
"They feed on bird droppings, feathers and even dead pigeons. They also drop from the very top floor down to the next-top, and down again, and so-on, feeding as they go. They tend to fill behind the walls and under the floorboards. If you see one in a living space it just means they have started coming out the walls.
"We can be called out to deal with them as much as twice a year in a flat."
As a whole, 6,936 callouts have been made in the last four years to 813 unique postcodes in Dundee.
The DD4 postcode area — stretching from Stobswell and Douglas up to Fintry — was responsible for nearly a third of the callouts alone.
The DD5 postcode, covering Broughty Ferry, was the least pest-ridden area, according to the figures.
Wasps accounted for nearly a fifth of all of the city's pest calls, with ants not far behind.
A spokesman for Dundee City Council said: "We take a number of measures to deter birds from nesting and causing a nuisance at multi-storey blocks in Dundee. There is also a regular cleaning regime in place for all communal areas of blocks which keeps these areas in good condition.
"The pest control service is available to anyone who needs it."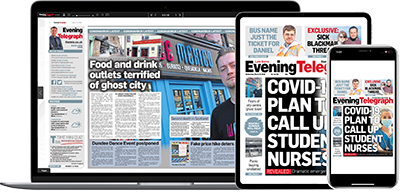 Help support quality local journalism … become a digital subscriber to the Evening Telegraph
Subscribe