Scotland's health secretary admitted she was "genuinely sorry" about the way the departure of an NHS Tayside chief unfolded, it has emerged.
Emails seen by the Tele show correspondence between Shona Robison — who also represents Dundee City East — and John Connell, who was chairman of the NHS Tayside board, regarding his resignation.
The emails, sent last month, showed the MSP giving Professor Connell the opportunity to consider his position on the cash-strapped board following a series of issues around its finances.
Ms Robison emailed Mr Connell a letter on April 5, telling the experienced health professional she had intervened in the running of NHS Tayside "due to the persistent difficulty in achieving a return to sustainable financial balance".
She also said that "a constant drip feed of emerging issues has led me to conclude that refreshed leadership is required to take NHS Tayside forward", and offered Professor Connell "the opportunity to consider your position before we discuss the matter".
In response the following day, he told Ms Robison he had become aware of public calls for his resignation before having had the chance to discuss it with her directly.
He confirmed he would be stepping down, but insisted patient care had not been compromised during his tenure.
He also said he had begun the process for an external review into the board's finances to be carried out, pointing out that the issues referred to "arose in the years prior to my appointment as chair".
Accepting Professor Connell's resignation, the SNP minister said: "I apologise for the nature of your departure.
"It is definitely not the manner in which I would have wanted it to take place."
She continued: "Although I would expect no less, I appreciate the professional courtesy and dignity with which you have responded to the fast-moving events of the past few days.
"I am genuinely sorry about the way in which this unfolded — in normal circumstances I would have expected you to be able to continue to fulfil your role with your customary diligence and dedication, and it gives me no pleasure to accept your resignation.
"I do want to emphasise that you leave without any doubt in my mind about your personal probity and commitment."
A new chairman and chief executive have now been put in place, with former chief executive Lesley McLay still employed but not fulfilling her role.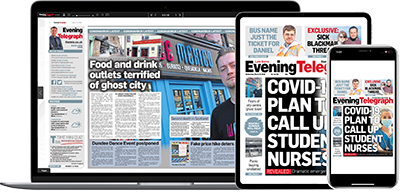 Help support quality local journalism … become a digital subscriber to the Evening Telegraph
For as little as £5.99 a month you can access all of our content, including Premium articles.
Subscribe