The owner of iconic record store Groucho's has admitted the store could close next year.
Alastair Brodie, 64, said he was considering retirement when the shop's lease runs out next August.
The record store has been a mainstay in Dundee for 42 years, and has been based at its current Nethergate location since 1999.
Last week there was speculation about the future of the store after the building the shop is based in was put up for sale.
Now Alastair has revealed he is thinking about packing away the vinyl for good when the lease runs out.
"At present it looks like I'm just going to retire, and the shop may close down, unless someone wants to come in and take it on," he said.
"This October I'm going to be 65. My health isn't getting any better, and I think it's about time I took a rest."
Alastair said he had suffered a number of health problems in recent years, including a bout of prostate cancer which led to him having his prostate removed.
"I've been doing this for 42 years here, I've loved every minute of it, but it's getting to the point where I want to spend more time with my family.
"It's just a natural thing where we're coming to the end of the lease and it seems the right time to go."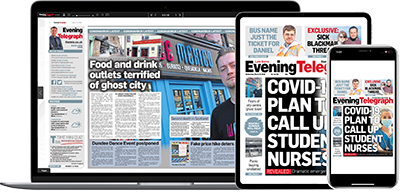 Help support quality local journalism … become a digital subscriber to the Evening Telegraph
Subscribe