Discovery Point was glowing with a purple light last night to raise awareness of pancreatic cancer.
The Purple Lights for pancreatic cancer campaign pays tribute to loved ones lost to the disease, as well as those who have survived.
The initiative is supported by Pancreatic Cancer UK, Pancreatic Cancer Action, Pancreatic Cancer Scotland and Planets and Guts UK.
The campaign involves lighting focal points in villages, towns and cities all over the UK in November, which is Pancreatic Cancer Awareness Month.
Almost 10,000 people are diagnosed with pancreatic cancer in the UK each year. Fewer than 7% of those diagnosed survive five years or more.
Mark Munsie, operations director of Dundee Heritage Trust, which runs Discovery Point, said: 'We are delighted to be raising awareness of this dreadful disease."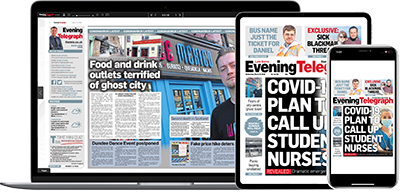 Help support quality local journalism … become a digital subscriber to the Evening Telegraph
For as little as £5.99 a month you can access all of our content, including Premium articles.
Subscribe