Scots-born songstress KT Tunstall is hoping she receives a better reception when she appears in Dundee next month than she did during one of her early performances in the city.
KT, who grew up in St Andrews, is the special guest currently playing alongside Simple Minds and The Pretenders on their Grandslam 2018 tour.
It will come to an exciting finale with the last gig in Dundee's Slessor Gardens on September 9.
In an exclusive interview with the Tele, KT revealed: "Dundee was where I first began busking.
"I was playing my guitar on the flyover to the old leisure centre in the hammering rain when I was moved on by the police.
"It was awful. Fortunately I've done better in Dundee on subsequent occasions I've played there.
"I'm really looking forward to coming back.
"It's coming home for me and I'm really excited."
Kate Victoria, known by her stage name KT, was born in Edinburgh in 1975.
She grew up in St Andrews and attended the High School of Dundee for 3rd, 4th and 5th year.
"It was while I was at the high school that I began to play the guitar," she said.
"I didn't get formal guitar lessons but my music teacher let me go at lunchtimes and pick up a guitar.
"It was during that time that I taught myself to play and sing.
"I'd had formal piano lessons from the age of four but this was my introduction to guitar."
KT said she left the high school after fifth year and worked in a shoe shop on the High Street during a year out.
"I ended up selling shoes to my old school pals for them going back to school," she said.
It was during that time that KT had her embarrassing encounter with the local police.
Since those early days, she has found global fame.
She broke into the public eye with a 2004 live solo performance of her song "Black Horse and the Cherry Tree" on Later with Jools Holland.
Her debut album, Eye to the Telescope, was inspired by her childhood experiences at her father's physics laboratory at St Andrew's University
She said: "Although I perform all over it can be quite daunting coming to play at home.
"It can actually be pretty nerve-wracking. I know there will be people in the audience I've known for a very long time."
She added that the Dundee crowd would be in for a treat. She is to perform the first single released from her new album.
"I can't mention the name of the album yet which is being released in October but the new single is called The River and I'm delighted I'll be able to play it in Dundee," the 43-year-old said.
KT has already played Dundee once this year when she opened for Gary Barlow at the Caird Hall in April.
She said: "That was great and obviously the Caird Hall is a fantastic venue but I'm really looking forward to playing at Slessor Gardens.
"Touring with Simple Minds and The Pretenders has been amazing and because the Dundee gig is the last in the tour it promises to be one big party."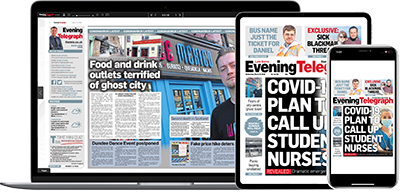 Help support quality local journalism … become a digital subscriber to the Evening Telegraph
For as little as £5.99 a month you can access all of our content, including Premium articles.
Subscribe