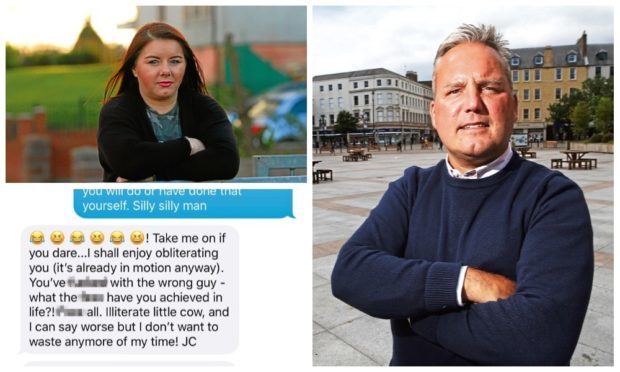 A group that helps people recover from drug and alcohol addiction is in turmoil after an ex-footballer on its board kicked out its co-founder and bombarded her with abusive texts.
John Carling forced out Recovery Dundee founding member Sharon Brand and co-director Dr Jennifer Jones after they raised their concerns about his conduct.
Mr Carling also sent Ms Brand foul-mouthed texts, threatening to "****ing destroy" her after she expressed concerns.
The 43-year-old called voluntary support worker Ms Brand – herself a recovering heroin user – an "illiterate little cow" and a "fat little boot".
He wrote in other texts: "You've ****** with the wrong guy – what the **** have you achieved in life?! **** all. Illiterate little cow.
"And you've been warned. If you attempt to traduce (look it up in the dictionary) my name, I shall destroy you. Listen to me, I shall ******* destroy you. Your call."
Mr Carling repeatedly refused to reinstate Ms Brand and Dr Jones to the community interest company (CIC) – a special type of body that aims to help people rather than make money – until approached by the Tele.
He told us that he did everything "above board", adding: "At all points, I sought to protect the integrity of Recovery Dundee.
"I've done everything by the book. I apologise for the text messages. They were sent in anger."
Mr Carling was brought on board after meeting Ms Brand and Dr Jones through a mutual acquaintance.
The former Dundee player, whose career was ended prematurely by injury, has since forged a career in business and offered them his experience in that field.
He persuaded them to make him a director on the CIC, recorded publicly on the Companies House database.
However, following his appointment in April, several members of Recovery Dundee voiced their concerns about his decision-making and general conduct.
Mr Carling encouraged the group – a handful of volunteers supporting those recovering from substance abuse – to set up a business bank account and register for VAT relief.
VAT relief is required by firms which turn over more than £85,000 a year.
Ms Brand and Dr Jones said that when Mr Carling was asked about their concerns, it was like a "switch was flicked" – and they soon found themselves cast out of the very movement they had helped to build.
Ms Brand – who has spoken openly about her own past issues with drugs – said Mr Carling's campaign of abuse had reduced her to tears.
She said: "I just wrote him one WhatsApp message and he went ballistic.
"It caught me off guard.
"Then he took me off of the CIC. "It's been extremely upsetting.
Dr Jones claimed that Mr Carling had attempted to turn her against Ms Brand with "compromising" information – and when she refused to see eye-to-eye with him, she was kicked out.
She claimed Mr Carling was aggressive and said: "Sharon and the others do brilliant work."
Emails seen by the Evening Telegraph reveal the pair were surprised to be sacked from their posts and requested to be reinstated.
Mr Carling refused.
However, hours after being contacted by the Tele and presented with copies of his foul-mouthed text messages, Mr Carling reinstated them both as directors.
Despite that, Dr Jones said Recovery Dundee's future could now be at risk.
"It is embarrassing and he has put the reputation of Recovery Dundee in jeopardy," she said.
Ms Brand has vowed that whether they fight to keep the Recovery Dundee name or start afresh, their work will not cease.
She said: "We'll carry on. It won't stop me from doing what I'm doing to help people."
Mr Carling had shared his story in the media last week as he said he had been sober for two years and was working with Recovery Dundee to support those recovering from substance abuse.
A Companies House spokesman said: "We cannot intervene in, or comment upon, a dispute between directors."
The Tele also contacted the Regulator of Community Interest Companies, which said it had been made aware of the matter but that directorial disputes were a matter for Companies House.
What are CICs and what do they do?
Community Interest Companies (CICs) are special arrangements that can be set up by organisations, such as Recovery Dundee, when they exist purely to help others rather than make money.
Those who form CICs often do so to give themselves a legal holding without taking drastic steps such as incorporating themselves as a charity.
When forming a CIC, groups are tied into certain agreements such as an "asset lock", which means everything that belongs to a company, including its profits, must be used to benefit the community.
The amount of cash they can give to themselves through dividends is capped, and they must pass a "community interest" test before being approved.
However, like all other incorporated private ventures in the UK, the records of CICs are maintained in the national database called Companies House.
While treated as public record, the accuracy of entries on Companies House relies upon the firms themselves providing correct information.
The government-operated database publishes records on the provision that they were submitted in good faith.
Therefore, if one director contacts Companies House to say that another has resigned, it will note that as a matter of public record without question, and amend accordingly.
The lack of scrutiny that data submitted to Companies House faces has been put in the spotlight thanks to a Birmingham man named Kevin Brewer.
Mr Brewer was convicted of filing false company information after he registered government ministers, including then-business secretary Sir Vince Cable, as shareholders and directors in fake companies he created.
The registrations went undetected until he told the government – at which point he was taken to court.
He told a newspaper earlier this year: "It's an easy touch, isn't it? If I form a company and write to them to say: 'I've done this to identify a problem', they say, 'we've got an open-and-shut case'."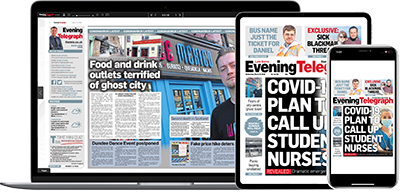 Help support quality local journalism … become a digital subscriber to the Evening Telegraph
For as little as £5.99 a month you can access all of our content, including Premium articles.
Subscribe