A mum has opened up about how she overcame addiction to prescription drugs as she launched a Christmas appeal for homeless people.
Donna Sangmor, 40, plans to fill shoeboxes with essential items to donate to vulnerable people in the city.
She and her children – Anisha, 14, Jay, 11, Noah, 9, and Daniel, 5 – have already started collecting.
Donna, from Mill o' Mains, said: "Not everybody who is homeless has an addiction, of course, but some do, and people have this perception that it's their own fault so they don't deserve help. I think addiction should be treated as a mental health issue.
"Everybody at some point has gone through something very difficult, which has left them broken and some people have less of a safety net.
"Addiction happened to me when I was prescribed opiate painkillers after having a kidney infection. I had people supporting me and wasn't made homeless, luckily, but a lot of others don't have that."
She aims to help others by collecting clothes, toiletries, toothbrushes and other items.
To get in touch with Donna about her appeal, call 07400 626665 or message her on her business Facebook page 4 UR Cleaning Services.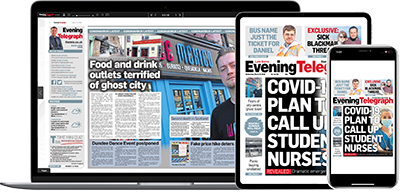 Help support quality local journalism … become a digital subscriber to the Evening Telegraph
Subscribe