A Houdini hamster has been reunited with his family nearly two years after he went missing.
Craigie mum Tracy Meldrum thought she was dreaming when she spotted male hamster Lily sitting outside her Craigie flat as she left to go to work.
The pet, bought as a present for her seven-year-old daughter Becca in October 2016, disappeared behind the toilet of their home the following January after being let out of his cage.
His vanishing act left Becca distraught – but her tears of sadness turned to tears joy after Lily made his way home.
Tracy said: "I honestly couldn't believe it when I saw him.
"I was going out to work at around 7am and I just came out the door as I normally do to go to work and I just thought 'that's Lily'. It's definitely the same hamster.
"Two years ago in January, my friend let Lily out of the cage and into the bathroom and he disappeared behind the toilet and into the pipes and the brickwork. I thought we would just never see him again but then there he was, outside.
"Becca was on her knees, crying, 'Lily you've come back to me'. I want to change his name to Houdini but she won't let me!"
Tracy, 33, admitted that she was especially surprised to see Lily return.
The family are set to go on holiday in a matter of weeks but Tracy said her daughter has got other things on her mind.
She added: "Becca said to me that she would rather I got a cage for Lily than go on holiday.
"I've heard of cats and dogs turning up but never hamsters – we've got no idea if he's been staying with someone or if he's just been on his travels for all that time.
"We'll never know, but we're just absolutely delighted to have him back."
Laura Mather, a vet from The Parkside Veterinary Group, said: "You hear of hamsters escaping and living wild in the house but it's very unusual for them to go missing for two years and reappear. Hamsters rarely live past two years.
"They will eat pretty much anything so could live off crumbs dropping through the floorboards and things like that.
"Quite often, rodents may go missing for a couple of months and show up again."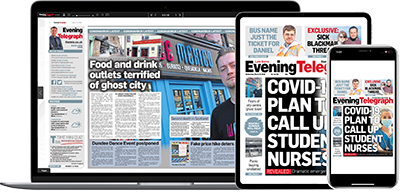 Help support quality local journalism … become a digital subscriber to the Evening Telegraph
Subscribe