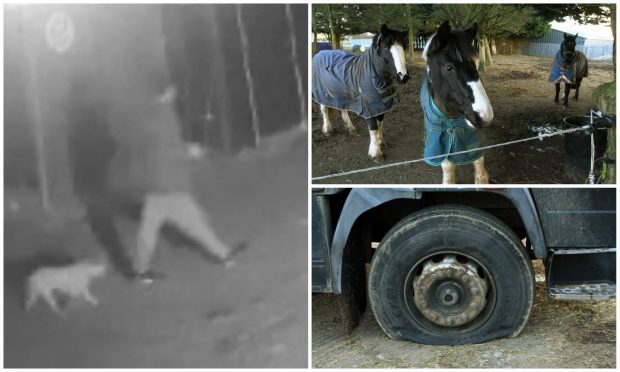 A vandal risked the lives of horses and motorists after cutting wires on fences surrounding a Dundee equestrian centre.
Police are investigating after fences at Claverhouse Equestrian Centre in William Fitzgerald Way were damaged by the intruder.
The following evening, tyres on three vehicles in the back car park were slashed, with CCTV capturing a man walking into the yard.
Writing on social media, the equestrian centre said the vandalism could have resulted in disastrous consequences had the horses wandered on to the road.
The post said: "Luckily, the horses were too busy eating a hay bale and didn't escape, but it could have been a disaster.
"I don't understand why anyone would want to endanger the lives of animals and people by cutting fences.
"If the horses had come out of the field, on to the road and been hit by a car, the consequences could have been fatal."
The post also said that the following night, someone had entered the car park on three separate occasions and slashed the tyres on three vehicles.
It said: "We know that on Friday night, a male walking a small, light-coloured dog, possibly a French bulldog, came into the back car park on three separate occasions and slashed all the tyres on a horse lorry, a car and a 4×4.
"He came in first at 10.02pm, then again at 10.25pm and returned at 11.24pm, slashing a few tyres each time.
"Please could everyone, if out walking dogs etc, cast an eye on the fields and stables and if you see any suspicious activity, please get in touch."
A spokesman for Police Scotland said: "We are investigating incidents of vandalism at Claverhouse Equestrian Centre in William Fitzgerald Way, Dundee, between Thursday December 7 and Saturday December 9.
"A fence has been damaged and a number of car tyres deliberately punctured. Officers would like to trace a man who was seen in the vicinity wearing dark clothing and who had a small dog with him.
"If anyone has information that could help with our inquiries, please call 101."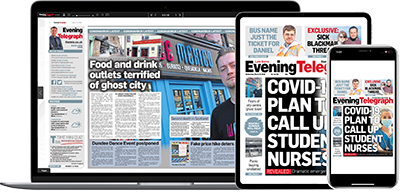 Help support quality local journalism … become a digital subscriber to the Evening Telegraph
For as little as £5.99 a month you can access all of our content, including Premium articles.
Subscribe