Hundreds of school pupils have started their new term in a new £17 million campus in Whitfield.
Youngsters and parents walked through the gates of the North East Campus for the first time today.
Roisin Smith, Dundee City Council's depute convener of children and families services, said the new facilities will help the pupils to meet challenges in the years ahead.
This month has seen six city schools moving into new premises in one of the busiest summers for education in Dundee to date.
Pupils from Longhaugh and St Francis Primaries and Quarry View Nursery School will be able to enjoy garden and nature areas as well as outdoor classroom facilities at the new North East Campus.
The three head teachers are Nicola Jenkin, Longhaugh, Neil Lowden, St Francis, and Susan Krachan, Quarry View Nursery.
Mr Lowden said the pupils were delighted with the new facilities.
He said: "There has been great anticipation of seeing the reaction of the pupils coming in today.
"It has been very positive.
"The kids are delighted with the outdoor spaces and classrooms.
"It looks fantastic and it will be a great community resource."
Councillor Smith said the new campus – which can accommodate nearly 1,000 youngsters, demonstrated how the city council was investing in the future of Dundee's youngsters.
She said: "Pupils and teachers will be keen to get down to work in their new surroundings.
"We are investing in the future of our young people through an ambitious building programme
"These are state-of-the-art facilities to meet the challenges that our pupils will face in the years ahead."
A new campus on Coldside is set to open its doors tomorrow to welcome children from Rosebank and Our Lady's RC Primaries and Frances Wright Pre-school Centre.
As part of the ongoing change to the school estates in Dundee, the former Hillside and Gowriehill Primaries are in the process of being demolished.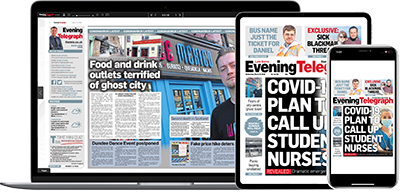 Help support quality local journalism … become a digital subscriber to the Evening Telegraph
For as little as £5.99 a month you can access all of our content, including Premium articles.
Subscribe