The human rights of drug users being treated for addiction are not being respected, Dundee's drugs commission has heard.
Jed Brady, a development officer with support service Reach Advocacy Scotland, told the latest meeting of the commission that "rights-based" advocacy services were needed to minimise harm.
Advocacy workers can help those getting treatment for addiction by dealing with issues related to housing, benefits and health which can often be a stressful distraction for those in recovery.
However, Mr Brady said many services do not take an approach which puts basic human rights such as quality of life first, resulting in those in treatment being labelled as "addicts" and wider problems not being addressed.
A rights-based approach, he argued, ensures those in recovery are given help in all areas of life and frees up resources in services such as the NHS.
Mr Brady said: "We definitely see how a rights-based approach, dedicated to addiction and mental health in each area of Scotland, would benefit people.
"It takes away labels – you're not an addict, you're a human being.
"I used to be an addiction worker and I know that when I saw a client, 80% of my time would be dealing with the DWP, housing, things like that.
"An addiction worker should just work on addiction.
"An advocacy worker can work with these four, five, six, seven services like housing and benefits – all these things have to align for someone to recover. Advocacy protects the person."
Reach Advocacy Scotland, based in Lanarkshire, has set a benchmark since it started in 2010.
It was formed to provide support for those in recovery by taking the weight of stresses such as housing queries and benefit claims off of their shoulders.
Since then it has been accredited by the SQA for its advocacy course, and has become the only "dual diagnosis" advocacy service covering addiction and mental health in Scotland to be recognised by the World Health Organisation.
However, the commission heard that bodies such as Reach are still struggling to be recognised widely.
An early application to the Big Lottery Fund for £500,000 to support SQA certification and the formation of a training school was "laughed off", Mr Brady said.
He added: "Big Lottery has since agreed to give us £150,000 over three years but it has been tough."
The Dundee Drug Misuse Commission was formed as a response to the rate of drug-related deaths in the city per head of population – the highest of any council area in Scotland.
Its first interim report – examining leadership and governance of drug services – is set to be published in the next few weeks.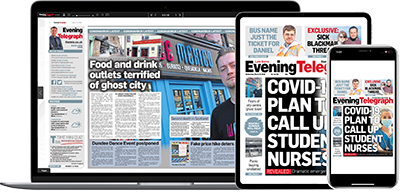 Help support quality local journalism … become a digital subscriber to the Evening Telegraph
Subscribe