A floating wind turbine is being reconstructed at Dundee Port prior to being relocated to the North Sea.
The two-megawatt turbine had been deployed in the Atlantic Ocean, off the coast of Portugal, for the past five years until being transported back to the City of Discovery last month for essential work to be carried out.
The turbine was dismantled prior to being shipped here, arriving on July 12.
Reconstruction work is now nearing completion. Once the work is finished, the structure will be relocated at the offshore wind farm owned by Grupo Cobra at Kincardine, off the Aberdeenshire coast, later this month.
A spokesman for the Port of Dundee said: "This is a further demonstration of the port's capacity and capability of handling large marine and offshore projects."
There are two types of offshore wind turbines – those which sit on the sea bed and others, such as the one being reconstructed – which float but are tethered to the sea bed.
The turbine is pictured at the port beside the oil platforms.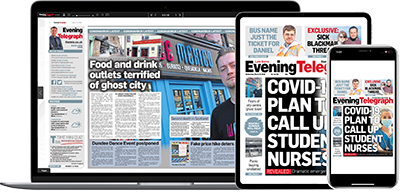 Help support quality local journalism … become a digital subscriber to the Evening Telegraph
For as little as £5.99 a month you can access all of our content, including Premium articles.
Subscribe