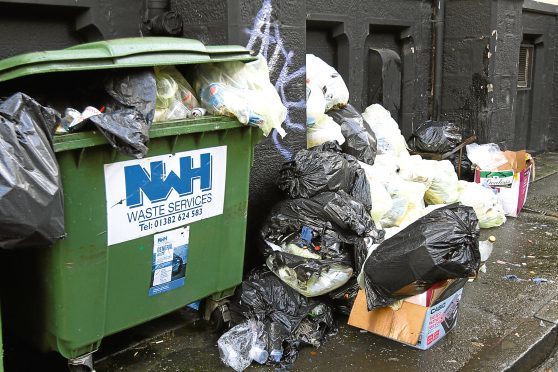 Bags of rubbish dumped on a pavement in Dundee city centre have been labelled a "health hazard".
The waste is believed to have been lying on Rattray Street since the weekend and has resulted in the pavement being blocked.
Items — including more than 20 rubbish bags, beer cans and boxes — were piled up on the street preventing people and workers from accessing the pavement.
The rubbish bags are believed to be trade waste left by a company that has not paid for collection.
Resident Sandesh Dev, a business and economic student at Dundee University, said the rubbish had become "unsightly".
The 20-year-old said: "I've lived here since September and this is by far the worst I have seen it.
"I'm amazed it has reached this scale. It's usually collected at least two or three times a week.
"It's unsightly having too see it when leaving the flat."
A spokeswoman for Hillcrest Housing Association said staff working at the Cairn Centre on Rattray Street were unable to access the pavement.
The spokeswoman added: "As well as being unsightly and posing a potential health hazard, the rubbish is making the pavement inaccessible."
Emma Sneddon, 30, the manager of nightclub Private Eyes on Rattray Street said:"We flagged this issue up to the council earlier this week.
"It has been sitting there since last Thursday and is clearly a safety hazard and it is potentially a fire hazard and breeding ground for vermin.
"There has been no attempt for it to be removed and I have been informed the matter is being dealt with by Dundee City Council.
"I realise these bins are not Dundee City Councils responsibility but they have advised the matter will be resolved within 24 hours."
The bins are etched with the logo NWH waste management.
A spokeswoman for the company said: "It is the responsibility of the property landlord to arrange uplift of their trade waste, and unfortunately in this case the customer has failed to pay for the waste collection service and has therefore not arranged an uplift. We can not offer a free trade waste collection service.
"We will of course respond immediately if the outstanding debt is cleared."
Maryfield councillor Lynne Short said: "If there is an issue with private providers, then our officers would be happy to discuss the provision of both emergency and long-term services to the city's business community.
"First and foremost, the public has an expectation of clear and safe streets and we should work with our partners to deliver this.
"There are a number of services in that area and they should be able to deliver form a safe and clear aspect."
Late last night Ms Sneddon from Private Eyes said the waste had since been cleared.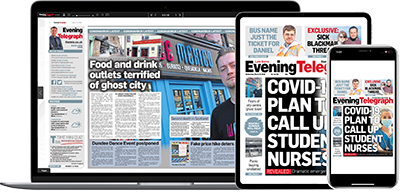 Help support quality local journalism … become a digital subscriber to the Evening Telegraph
For as little as £5.99 a month you can access all of our content, including Premium articles.
Subscribe