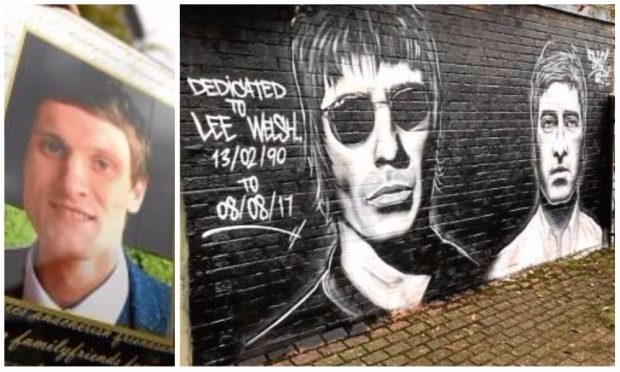 A tragic Dundee dad has been honoured in a mural alongside one of his favourite bands.
The tribute was paid to Lee Welsh, 27, as part of a graffiti mural depicting Oasis stars Liam and Noel Gallagher.
The art recently appeared at the former DPM factory in Hilltown — a designated site for graffiti art — and was created by SYKE Graffiti.
Lee, a father-of-one, was found dead at his home in Peddie Street in August leaving his family and friends devastated.
Dad Phil, 48, said he and his partner Lesley Nicoll were "over the moon" with the tribute and that it has brought them some comfort during their difficult time.
Phil said: "We noticed the mural had appeared overnight by SYKE Graffiti.
"Lesley had dropped a message to the guy behind it and he said that he knew about Lee.
"So, he has come up and added the dedication about Lee and we're absolutely over the moon with it.
"The guy's not doing this for any publicity or anything like that.
"I just thought it was a wonderful thing to do.
"All his pals are coming up to see it. It won't last forever because they do different things after a wee while, but we will have it forever in photographs."
Lee was known in the city for his musical exploits with his band Modern Culture.
His memory was honoured recently with a night of music at the Royal Tay Yacht Club.
The Tele previously told how Lee battled mental health issues for almost a decade prior to his death, which has prompted his parents to campaign for greater action in assisting people with similar issues.
Phil added: "It's been a difficult time for us with everything that has been going on, but something like this has given us a wee boost.
"Lee and I used to have debates about Oasis because he loved them and I wasn't much of a fan.
"He went to see them at Hampden years ago, but I never went.
"But he did manage to get me to kind of like Noel Gallagher's solo stuff.
"It's great that he's featured alongside the Gallaghers. It's something so simple, but it's gone a long way."
Symon Mathieson from SYKE Graffiti added: "I was approached by Lee's family as they saw the paintings I did at the DPM.
"Lee's mum explained to me that he lived in the area and was an avid Oasis fan and asked if I would put Lee's name as a dedication.
"I didn't know Lee personally, but I'm humbled to have been asked to put his name up."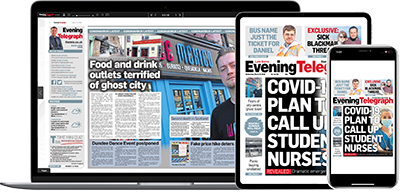 Help support quality local journalism … become a digital subscriber to the Evening Telegraph
Subscribe