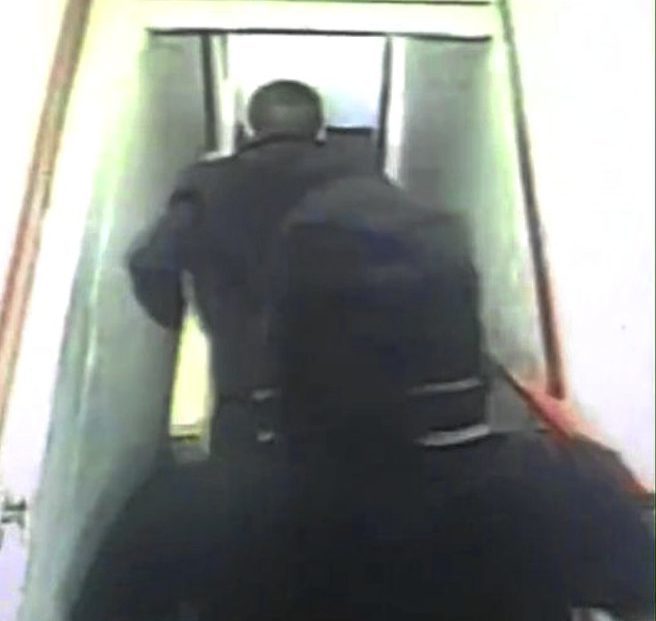 This is the moment a bungling thief makes off with two brand new cues from a Dundee snooker club — before dropping them and running away.
A bizarre video of the incident at Embassy Snooker Club on Douglas Street has been released in a bid to help find the clumsy culprit.
The two-second clip shows a view of the club's stairs leading towards the exit before a man suddenly appears carrying two boxes, containing what the club described as two brand new unopened snooker cues.
The club says the man had jumped over the front counter to reach for the cues.
He was running out of the building when the amateurish culprit botched his theft and lost grip of the cues.
The suspect — who is wearing white trainers, a pair of jeans and a quilted hunting jacket — appears to be being chased.
The club's appeal stated: "Wow! For the first time since we opened our door, this chap in the front here jumped over our counter, picked up two brand new unopened snooker cues and tried to make a run for it.
"Luckily he dropped the cues and we got them back.
"Does anyone recognise this dude?"
Members of the club's social media pages urged the firm to give the footage to the police, but a spokeswoman for Police Scotland said they were unaware of the incident.
One fan of the club said: "No way bro that's shocking.
"The amount of people coming through those doors — everyone is respectable.
"I'm sure we will find him, Dundee ain't that big."
Another added: "Oh my God, some people are total scum."
After posting the picture of the culprit, the club then uploaded the two second video where they admit having viewed it again it was "quite amusing" seeing him run away.
The video has now amassed more than 300 views on Facebook with several people commenting.
One said: "Actually hilarious how quick Shahid is after him."
Another said: "Does he really think he's going to get away with this?"