The "honeymoon period is over" for electric vehicle (EV) owners after the city council revealed it will start charging them to plug in their cars.
Lynne Short, city development convener, said councillors will be asked to approve tariffs for the use of charging points at a meeting in March.
The rates, which have yet to be revealed, could come into force the day after they are approved.
Ms Short, a prominent advocate of EVs, said the council had taken a "mindful" approach to introducing fees, which will apply to private owners and taxis.
However, other incentives for EV ownership, such as free off-street parking, will continue to be offered to eco-friendly drivers.
Ms Short said: "We're now coming to the stage that we have to consider charging for the use of the charging stations. It's no secret there's a huge deficit in the budget.
"Early EV owners have been pretty evangelical and they realised that this was on the horizon.
"But they know they're paying less per mile than gas guzzlers.
"People have told me about not charging at home and just charging up on the council chargers instead because they are free.
"They have been running around on public money – but the honeymoon period is over."
However, Ms Short believes those considering EV ownership will not be put off by the prospect of paying to charge up.
"At the end of the day it will still be cheaper than a petrol car, it will be better for the environment and we still offer other incentives," she said.
Elinor Chalmers, a local EV owner, said most drivers would not take issue with the costs.
She said: "We've had it good for a long time – but the council has to make sure the pricing is fair."
Chris Elder, local taxi branch secretary for trade union Unite, said the announcement was "not a shock" for the city's cabbies – but called on the council to set aside chargers exclusively for taxis.
He said: "We all thought it was going to happen.
"I still run a petrol Volvo and pay for the fuel. Electric taxi drivers will absorb the cost in the same way. But we would like to see more chargers set aside for the drivers."
Dundee will not be the first local authority to introduce fees.
Moray Council has always charged electric vehicle owners, currently at a flat rate of £3.80.
Dumfries and Galloway imposed fees this week, with faster, more power-hungry stations costing 25p per kilowatt hour (kWh) and slower stations 10p per kWh.
If similar rates came to Dundee, an owner of a Nissan Leaf – which can run for up to 235 miles on its 40kWh battery – would pay up to £10 for a full charge from flat at a fast charger.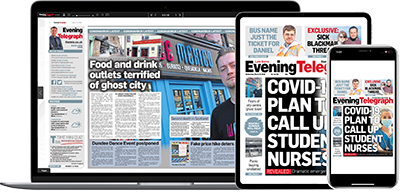 Help support quality local journalism … become a digital subscriber to the Evening Telegraph
Subscribe