Ghostbusters star Bill Murray made the Dunhill Links Golf Championship an out-of-this-world experience for one four-year-old spook-hunting fan of the hit movie.
Kitted out in full ghostbusting gear, Broughty Ferry youngster Jacob Suttie caught the eye of the Oscar-nominated star as he prepared to tee off at Carnoustie.
And the 68-year-old comic switched his sights from chasing birdies and eagles to tell the young Dr Peter Venkman – who Murray played in the 1984 film – to point his proton pack in the direction of slime around the famous Angus course.
Lost In Translation star Murray is a regular at the event, and Jacob's delighted parents Darren and Lisa said the actor's response to seeing their son in his costume had made his day.
Darren said: "I'm a golf fan and was planning on attending the Dunhill Links anyway, and it just so happened that Jacob was watching Ghostbusters on Friday morning when I found the pairings for Carnoustie on Saturday and saw Bill Murray was attending.
"Jacob's been to Carnoustie for parties and for the Maggie's penguin hunt, and when I told him that Dr Peter Venkman was playing golf in Carnoustie he was so excited and wanted to go and watch him play.
"We arrived about 10 minutes before Mr Murray was due to tee off and as he was coming off of the practice green, my wife Lisa and I found a nice spot beside the starter's box which wasn't over-crowded.
"Mr Murray spotted Jacob in his costume and shouted: "Hey little Venkman, thanks for scanning the area but I think I saw some slime in the clubhouse earlier!"
Darren added: "He gave Jacob a hug and high-five before making his way back to the tee as other people began crowding round."
"Mr Murray was an absolute gent with Jacob and we appreciate the time he took with him."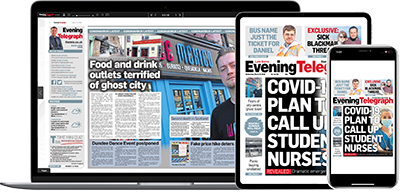 Help support quality local journalism … become a digital subscriber to the Evening Telegraph
Subscribe