Dundee's historic ships have had a "significant" rise in visitor numbers since the V&A opened.
Operators of RRS Discovery and HMS Unicorn say they've both had more interest from tourists because of the lure of the £80 million museum.
The nautical attractions delivered their good news after the V&A confirmed more than 27,000 people had visited in its first week of operation.
Paul Jennings, executive director of Dundee Heritage Trust – which runs RRS Discovery and other attractions including Verdant Works – said the ship and its adjacent visitor centre, which is next door to the V&A, had welcomed thousands of extra visitors this month.
He said: "We have seen fairly significant increase in visitors numbers.
"Trading numbers are 50% above seasonal business for September.
"It was actually a record-breaking August as well.
"The cafe, the ship and the car park have been busy.
"We certainly wouldn't be expecting that given the time of year.
"Anecdotally, people seem to be coming in via train to visit the Discovery Point and the city as a whole."
Finlay Raffle, who works as the learning and engagement officer at HMS Unicorn, based at City Quay, said there was already talk of extending visiting hours over the winter – such has been the interest in the ship.
He said: "There has been a very positive reaction to the V&A opening.
"We've certainly noticed visitor numbers are up.
"We also noticed a substantial increase during August just prior to the V&A opening.
"People seem to be embracing the changes that are going on in Dundee. The larger media presence has brought the city to the attention of a much bigger audience.
"The area around the Unicorn has also changed with the arrival of Foxlake.
"There has been discussion about trialling additional hours over the winter.
"In August we saw a 30% increase year-on-year on visitor numbers.
"A number of people who would have previously driven past Dundee are now coming to visit."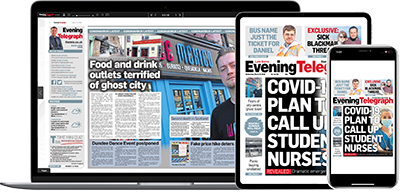 Help support quality local journalism … become a digital subscriber to the Evening Telegraph
Subscribe