A Dundee shopkeeper was beaten up by booze thieves after confronting them outside his shop.
Arsalan Haider, 25, a manager at Court Street News, was left with bruising to his nose and his left eye after the have-a-go hero chased after two men who made off with three bottles of liqueur.
Arsalan, from Lochee, said the men entered the shop shortly after 10pm on Sunday.
He and his uncle, Rao Saim, chased the thieves on to Sandeman Street, but after confronting one man, Arsalan was butted in the head and punched to the floor.
The two culprits were caught on the shop's CCTV, standing outside the premises minutes before the incident.
Arsalan said the men had been in two hours earlier and purchased alcohol, including tonic wine.
Arsalan said: "The two guys had been in the shop around 8pm and bought £20 worth of alcohol.
"We had put the shutter down around 10pm but the door was still open. Two guys ran in and made off with three bottles of liqueur.
"Adrenaline kicked in and we went after them. I confronted one of the men on Sandeman Street.
"I didn't attempt to fight back as I didn't know if he had a weapon.
"After being attacked, my nose was bleeding and there was bruising around my left eye. I was treated at the scene but my nose was still bleeding throughout the night.
"It is scary that something like this has happened, and there is a concern that they may come back."
A police spokesman said: "Police Scotland are investigating an incident which took place in Court Street and Sandeman Street, Dundee, about 10pm on Sunday.
"Two men allegedly stole items from a shop, and after being pursued by shop staff, one of them then assaulted the staff member causing minor injuries.
"Officers would like to trace two men. The first is described as wearing a blue North Face jacket, black jogging bottoms and a white trainers. The second is described as having short dark hair, and wearing a black jacket, black trousers, and red Adidas trainers.
"Inquiries are being made and CCTV from the shop is being examined."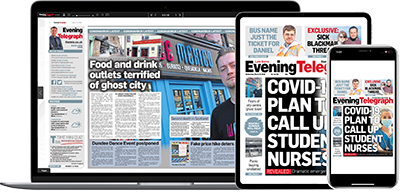 Help support quality local journalism … become a digital subscriber to the Evening Telegraph
For as little as £5.99 a month you can access all of our content, including Premium articles.
Subscribe