A hero taxi driver saved a man from a blazing flat before casually returning to work less than an hour later.
Alan Rafferty nipped home to his flat on Cardross Place after dropping off a fare on nearby Sandeman Street just before 7pm on Tuesday.
When he arrived, he heard an alarm sounding in his neighbour's flat.
He went into the flat through the front door and was confronted by five-feet-high flames in the living room.
The 36-year-old said: "When I got home I could immediately smell smoke in the close.
"There was a fire alarm going off and I could hear it was coming from my neighbour's flat."
Alan opened the door to find his neighbour unconscious on the settee just a foot away from the flames.
He said: "His door was unlocked so I made my way inside and found the living room door closed.
"When I went into the living room, the flames were five feet high.
"There was paper on the floor so I think it had spread quickly."
Alan said he dragged the man from immediate danger before trying to find the kitchen.
He said: "I was panicking – there was a lot of smoke in the living room.
"Not knowing the layout of the guy's flat, I found the kitchen and got some water."
Alan said he was able to dampen the flames before attempting to take the man out of the flat.
He said: "I had to come out of the flat because of the smoke and called 999.
"I notified my neighbours to let them know what was happening.
"After going back into the flat I tried to get the guy out but he was like a dead weight.
"I made sure all the windows were open to try to ventilate the flat."
Alan added: "After the fire crews got the guy out they laid him down in the garden area.
"It felt like that bit went on for ages.
"They were giving him some sort of breathing assistance and he was wrapped up.
"There was an ambulance on the scene as well.
"One of the firefighters came up to me and said it could have been a lot worse if I hadn't acted so quickly.
"The whole thing must have gone on for about 10 minutes but it felt like it was a lot longer.
"It's lucky I managed to catch it at the right time.
"It is quite scary to think what could have happened if I hadn't gone home."
Alan said he was back on the taxi rank near The McManus on Albert Square by 8pm.
He added: "I've been a taxi driver for more than 10 years now.
"You see a lot of things but that is certainly the most dramatic thing that has happened to me.
"When I got back on to the rank I was telling my customers what had gone on.
"I don't think they could believe it."
Alan's brother Eddie hailed him as a hero for his quick thinking.
He said: "When Alan told me what had happened I was shocked.
"He did brillianly to act as quickly as he did to get the man out."
A spokesman for the Scottish Ambulance Service said paramedics attended but no one was taken to hospital following the fire.
A spokeswoman for the Scottish Fire and Rescue Service said two appliances from the Kingsway fire station were sent to the incident shortly before 7pm.
Firefighters wearing breathing apparatus used one carbon monoxide extinguisher to put out the flames.
The spokeswoman confirmed a casualty was removed from the address.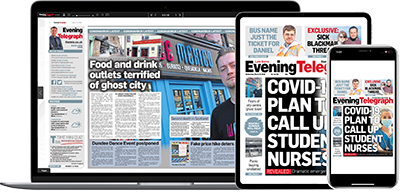 Help support quality local journalism … become a digital subscriber to the Evening Telegraph
For as little as £5.99 a month you can access all of our content, including Premium articles.
Subscribe