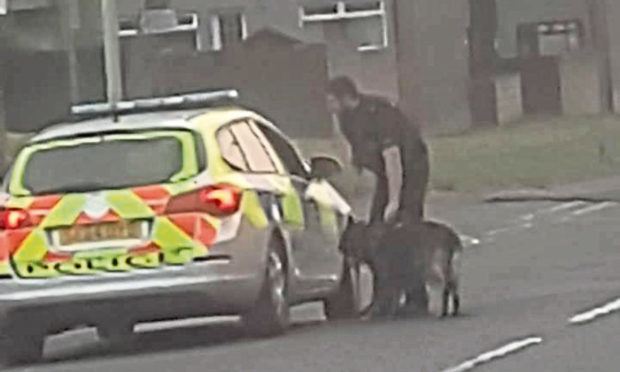 A taxi driver faced down a would-be robber who confronted her with a fake knife and demanded money.
Lynne Cowan refused to hand over her money bag, telling thief Scott Taylor she had no cash.
Taylor had disguised a TV remote control wrapped in tin foil as a knife.
At Dundee Sheriff Court, the 33-year-old, a prisoner at Perth, admitted assaulting and attempting to rob Ms Cowan on June 1 at Dee Gardens. He also pleaded guilty to assaulting David McManus on Charleston Drive and robbing him of £30, while on bail.
Tele Taxi driver Lynne, 61, from Lochee, said Taylor had phoned from a payphone. She said: "When I arrived he got into the passenger side of the front of the vehicle and asked me for money. I saw what I thought was a knife.
"He never put it towards me but I calmly told him I didn't have any cash in the car.
"I was incredibly lucky he got out of the vehicle. I wasn't aware it hadn't been a knife."
Fiscal depute Saima Rasheed said Taylor had assaulted Mr McManus a few days earlier and had made off with £30 after presenting the fake knife at him. He entered the taxi at Ninewells Hospital and asked to be taken to Old Hawkhill. En route, he pulled out what appeared to Mr McManus to be a knife.
He then held the fake blade to Mr McManus's stomach and told him: "Give me your money."
The fiscal said Mr McManus handed over £30. Taylor demanded more and he told him he had no more money as it had been a quiet night.
Taylor replied: "I'm sorry, that'll do. I've just been sanctioned and I've not eaten for three days."
Police were informed and CCTV at Ninewells showed the accused getting into the taxi.
Sheriff Alastair Carmichael deferred sentence until September 20 for reports. He also made a restriction of liberty order assessment and remanded Taylor in custody.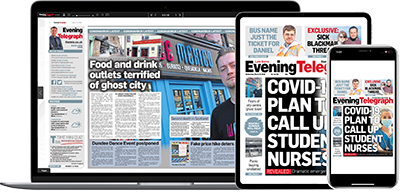 Help support quality local journalism … become a digital subscriber to the Evening Telegraph
For as little as £5.99 a month you can access all of our content, including Premium articles.
Subscribe