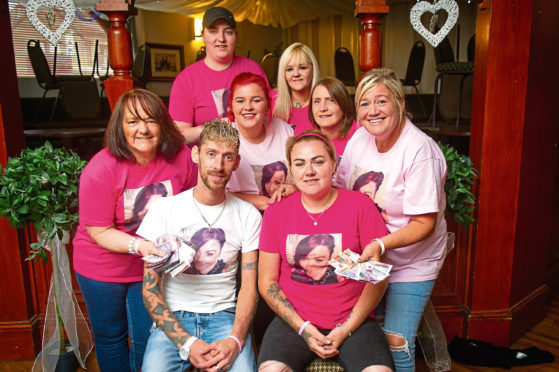 A terminally ill Dundee woman has been left disgusted after money raised for her wedding was stolen.
Family and friends of Jennie Cameron helped to raise thousands of pounds to pay for her big day in September.
In just a few short weeks, mother-of-five Jennie's loved ones managed to collect more than £3,000 through various events and she is now due to tie the knot at The Ambassador bar on Clepington Road.
Jennie, 32, has been given just a year to live after a devastating cervical cancer diagnosis last month.
Despite being "overwhelmed" by the efforts of family and friends, she said the fundraising campaign had been marred when some of the money went missing.
She was left "disgusted" to discover that more than £700 had been taken from her home, and posted a message on Facebook asking for the cash to be returned.
Money set aside to pay for the photographer and other expenses was taken by someone Jennie can only assume she knows.
It was a bitter blow for the Mid Craigie woman, who had received the "all clear" following months of treatment, only for the cancer to return and spread to her liver, lungs, lymph nodes and bones.
Jennie said: "I had been overwhelmed by the efforts of everyone involved in raising the money but am disgusted that some was taken.
"There was £550 to pay for the photographer, £140 for the kids' kilts and also £90 of birthday money taken. There have been so many people in my house in recent days and it is obviously someone I know, which makes this extremely disappointing."
Most of the money had been collected at the main fundraising effort in The Ambassador.
Jennie, who is currently in hospital, added: "It is very hurtful that someone I know has done this, given everything else that has currently happened – this is the last thing we need."
Kate Fraser, 59, director of The Ambassador, said she was disappointed to hear about the theft.
She added: "Everybody had pulled together to raise money for this and the funds that have been taken were going towards other things. It's a shame."