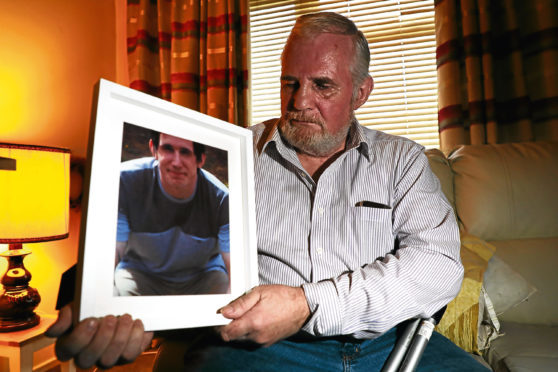 A heartbroken Dundee dad who lies in the bed where he found his son dead "to feel his presence" has spoken of his search for answers about why he took his own life.
Ross Robertson was found dead by his dad Ian at their Americanmuir Road home in November last year. He was just 32 years old.
Speaking for the first time since his son's death, dad Ian said he still lies in the bed where he found Ross's body "just to get a feel of him being there".
Ross had descended into depression after breaking up with his partner and had moved into his dad's house because he "needed space".
Ian, who lives apart from his wife, moved back in with her but days later his "world shattered" when he found his son's body.
He said: "I hadn't heard from Ross for a while. I tried to phone him but it went straight to the answer machine.
"I decided I would just go up and see him to see how he was getting on.
"The lights were on and the TV was on. I thought that Ross had maybe gone for a sleep.
"I went into the bedroom and turned the light on — that's when I saw him.
"He had hanged himself from the bed frame. I tried to get him down and give him CPR.
"I tried so hard to save him but he was gone. I suppose I always knew that he was."
Ian told of Ross's struggle before his death.
He said: "Ross was pretty quiet in his early years. He always wanted to be a joiner.
"He started out working at JTC, then he went back to college and went on to be a kitchen fitter.
"He started his own business and employed a few guys. He was doing really well.
"But then he split up with his partner and he started drinking with guys who worked with him and ended up moving back in with his mum.
"He was drinking more and more. He said he wasn't right and needed some space.
"I had been telling him that for long enough and I said he was better off going into Carseview."
Ian said staff at the centre had been reluctant to admit Ross but he convinced them that his son was "in a bad place".
Ross spent two weeks in Carseview but left — with Ian saying that he knew that his mental state had not improved — to be supported by the health board's crisis team.
However, Ross fell deeper into depression and three attempts to take his own life were foiled by his dad, his brother and the police respectively.
Ian is now set to pursue the health board for answers about why his son was not kept in hospital longer.
He said: "This was all a cry for help. I honestly believe that, if he had been sectioned, then they could have got to the root of the problem."
Ian is now taking legal advice and is set to launch court action – believing that Ross's death needs to be examined in order to try to prevent other similar tragedies.
A spokesman for Dundee Health and Social Care Partnership said: "Due to patient confidentiality we cannot comment on matters relating to individual patients.
"Our thoughts are with this family during this sad time. Every suicide is a tragedy and the impact for families, friends and local communities can last a lifetime."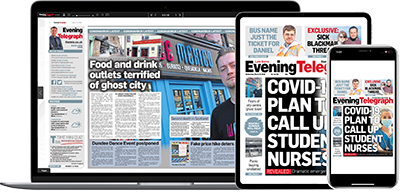 Help support quality local journalism … become a digital subscriber to the Evening Telegraph
Subscribe