Scotland's health secretary has apologised to the family of a Dundee dad who died after leaving a psychiatric unit.
Dale Thomson, 28, was treated at Dundee's Carseview Centre between January 8 and 10 last year, following concerns for his wellbeing and safety.
The father-of-one was hearing voices, having paranoid thoughts and had tried to take his own life days before being admitted.
Staff had allowed him to leave, despite having the power to detain him under the Mental Health Act.
He was then brought back to the unit by police just hours later after more concern for his mental state by officers.
But despite his background of attempted suicide and depression, he was again allowed to leave when he walked out of an assessment.
The father-of-one was found dead by his mum, Mandy McLaren, and his twin brother, Billy, 17 days later.
The apology by Shona Robison, cabinet secretary for health, wellbeing and sport, comes after NHS Tayside's medical director admitted that "the care and treatment of Dale fell below the standard we would expect".
Ms Robison, who is MSP for Dundee East, said: "If a service or part of the health service doesn't meet the standards it should meet, then of course I would apologise to their family — whether that's in mental health services or any other service.
"Obviously I can't comment on individual cases to any great extent, because I'm not party to the full clinical information.
"Most of the time, our services are of a very good quality – sometimes services do fall short of where they should be."
Ms Robison added that when there are failings, there would be a full investigation, to avoid mistakes being repeated.
However, Dale's mum Mandy said her comments were "too little, too late".
She said: "The apology should have come to me directly.
"Me and my son Billy have that image in our heads of finding Dale and that will never leave us.
"My granddaughter has to visit her dad's grave and calls it 'daddy's house'."
Mandy added: "The only thing that could make us feel better is to know this will never happen again."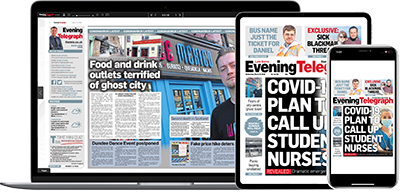 Help support quality local journalism … become a digital subscriber to the Evening Telegraph
For as little as £5.99 a month you can access all of our content, including Premium articles.
Subscribe