A victim of a serial domestic abuser convicted of a string of attacks has spoken about her ordeal.
Jillian Donaldson endured almost five years of abuse at the hands of Christopher Webster.
She was isolated from her friends, became detached from her family and was attacked on multiple occasions – including being thumped with a metal pole so hard that it lodged in her thigh.
Jillian has bravely broken her years of silence after Webster was convicted at Dundee Sheriff Court of almost 20 years of violence against her and two other women.
Jillian, 48, first met Webster in 2000 and they were in a relationship for the next four years.
She said things took a sour turn only after their relationship became more serious.
"He couldn't have been nicer at first, but everything changed after he moved in with me," Jillian told the Tele.
"He became obsessive with everything I did, phoning me constantly, demanding to know where I was and who I was with.
"I brushed it off at first, but he was just non-stop and was basically stalking me. I ignored his calls and he just lost it.
"He attacked me with a pole which was from an exercise machine. He struck me on my leg and caused quite a serious wound. It got lodged in my leg.
"He said it was an accident and he disappeared for a bit after that."
After the attack in 2001, Webster continued to exert control over Jillian and was convicted of repeatedly kicking her in March 2004.
The 39-year-old, of Americanmuir Road, pleaded guilty to repeatedly stalking Jillian between September 2004 and May 2005 – long after their relationship ended.
Jillian, from the West End, added: "Everything just got worse and worse.
"I lost all my friends. He threatened just about everyone in my family and my mum ended up having a nervous breakdown because of him.
"It was like I couldn't escape. It was easier to be with him than it was to leave him.
"I remember one time going on holiday abroad and he had a party and basically wrecked the place. He phoned me up saying he couldn't cope with what was happening and demanded that I return home.
"Even after I finished with him, he would follow me in his car and phone me all the time.
"He was always in the background and he stopped harassing me only after he met his wife.
"Any future relationship I tried to have after him he would just ruin."
As well as Jillian, Webster repeatedly battered and stalked his wife between 2010 and 2016. He also admitted stalking and terrorising another woman between July 2017 and January last year, as well as pinning her to a bed and biting her on the face during one of the assaults.
Webster is likely to face a jail term when he returns to the dock to be sentenced next month.
Jillian said that while she still struggles with the impact of her ordeal, she is pleased that Webster has finally been brought to justice.
She added: "He has had just a huge impact, not only on me, but my family. He's a coward – he thought he could just do whatever he liked.
"I have mixed feelings about it because everything has been brought up again, but I'm just glad that he's admitted what he's done.
"I'm just trying to get him out of my life for good."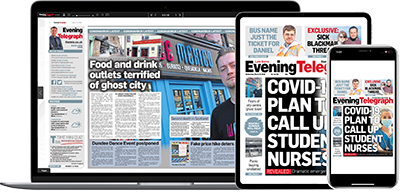 Help support quality local journalism … become a digital subscriber to the Evening Telegraph
For as little as £5.99 a month you can access all of our content, including Premium articles.
Subscribe