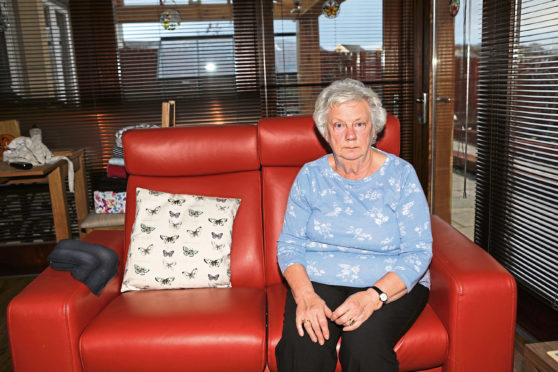 A pensioner has spoken of the moment she and her husband were subjected to a terrifying armed robbery by masked intruders who burst into their home and demanded money.
Frances and Phillip Youngs were sitting in a room at the back of their home on Clearwater Park when two men suddenly appeared in front of them.
The robbers threatened the couple with a weapon, believed to be a knife, before locking them in a bathroom as they raided their home.
The thugs took more than £650 in cash as well as jewellery worth thousands of pounds, including two Rolex watches, before stealing a car belong to the carer of their disabled daughter.
Mrs Youngs said she and her husband, who suffers from Parkinson's, feared they could have been stabbed.
She said: "We hadn't heard anything, they just appeared.
"Both had Burberry scarves covering half their faces and one was brandishing a weapon. It could have been a knife. We could have been stabbed.
"He pointed it at us and demanded money. One of them disappeared up the stairs and the other one stayed with us."
Mrs Youngs said that the robbers forced the couple, both in their 70s, into a small downstairs toilet and pushed a chair against the door.
She said: "That really scared me. I had no idea how long we were going to be in there.
"I was really scared they would push or hurt my husband.
"I felt it was up to me to keep the robbers calm.
"They told me they wouldn't hurt us and to just do what they said."
Mrs Youngs said the ordeal lasted 15 minutes.
The couple's daughter Susan, 43, who has cerebral palsy and multiple sclerosis, was out with her carer at the time.
"Before they left they kicked the chair away from the door," said Mrs Young.
"They stole the car belonging to the carer who was out with my daughter."
Police confirmed they were investigating an armed robbery at an address on Clearwater Park at around 7.30pm on Wednesday night.
Search for two men
Police have launched an appeal to find the two men who broke into Frances and Phillip Youngs' home.
Officers have given descriptions of both suspects plus the car they stole to make their getaway.
Detective Inspector Gavin McKinlay said: "We are keen to trace two men in connection with the robbery. They made off with ladies and gents jewellery, cash, currency and a black Vauxhall Corsa with the registration mark SG13 ZLZ.
"One of the men is described as being 5ft 8in, of slim build, with dark hair. He was wearing a grey knitted hat and a Burberry scarf over his face.
"The other man is described as being 5ft 8in, of slim build, with dark hair. He was wearing a hat and a Burberry scarf over his face. He was also wearing a cream-coloured jacket with a circular motif.
"Officers are carrying out door to door inquiries and a review of CCTV footage. We believe there is no wider risk to the public, but there will be a continued presence in the area while inquiries are ongoing."
Anyone with any information should contact police on 101.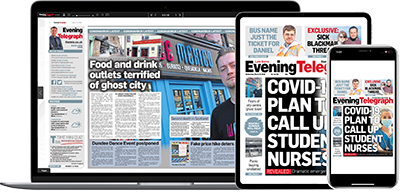 Help support quality local journalism … become a digital subscriber to the Evening Telegraph
For as little as £5.99 a month you can access all of our content, including Premium articles.
Subscribe