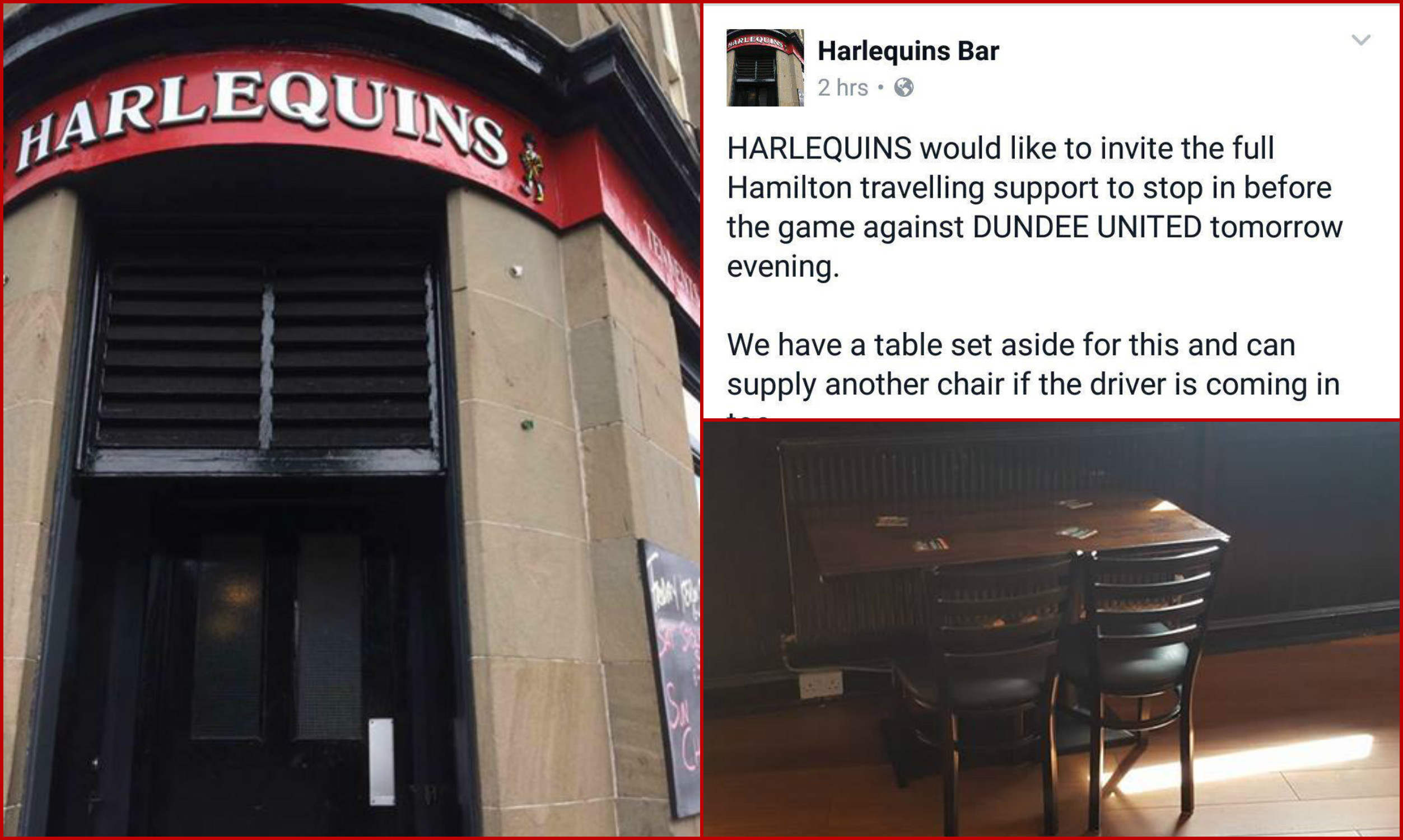 A Dundee pub was forced to delete its Facebook page after being targeted by online trolls.
The social media account of Harlequins Bar was hijacked by fans of Hamilton Accies who left negative reviews after a joke post was made prior to the Premiership play-off first leg against Dundee United last week.
The post read: "Harlequins would like to invite the full Hamilton travelling support to stop in before the game.
"We have a table set aside for this and can supply another chair if the driver is coming in too."
A picture of a small table in the bar accompanied the post, inferring the Accies were going to bring few supporters to Thursday's match at Tannadice.
The post was later deleted.
In the days since, the Albert Street pub received a barrage of negative reviews from people from South Lanarkshire.
One, in which a man claimed to be vegetarian, said he was forced to eat a steak pie by bar staff. However, pub manager Tommy McGregor says no cooked food is served.
Another claimed the pub had strippers in the premises, which Tommy flatly denied – though he did see the funny side of the spurious accusation.

Tommy said the original post, which quickly went viral with more than 13,000 views in a few hours, was made in jest by a punter and no harm was meant by it.
Moving to dismiss the negative comments, the 50-year-old said: "Harlequins welcomes football supporters from all teams.
"We are a sports bar with Sky Sports and everything and these are the people we want to come here.
"It's also an over 18s venue so we wouldn't accommodate families anyway. And there were certainly no strippers on the tables.
"On Thursday night, no Hamilton fans entered the pub.
"We did have about three or four phone calls on the night from Hamilton fans wanting to reserve 200 spaces which we wouldn't be able to do. I think it was just to frighten us."
Other one-star reviews left by fans purporting to have gone to the establishment claimed the food was not up to scratch.
However, Tommy was quick to dismiss these comments as the pub doesn't have a licence to serve meals.
He added: "We don't serve food at all – we're a wet led premises.
"One boy was saying he was vegetarian and ordered the vegetable pie and staff forced him to eat a steak pie – that's nonsense.
"We've ran the page for nearly two years and never had one negative comment. I think this was just sour grapes from the Accies fans.
"On Sunday we had Dundee and United fans in together, Celtic supporters and we've got a Rangers fan behind the bar so there's always good banter."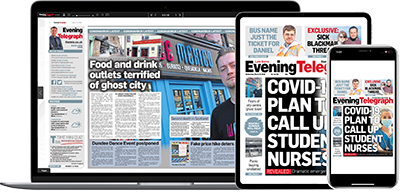 Help support quality local journalism … become a digital subscriber to the Evening Telegraph
Subscribe