Everywhere you look, our noisy urban neighbours are raking in bins – and even attacking unsuspecting pedestrians in a bid to steal their lunch.
But according to one expert, the much-maligned gull is going nowhere in a hurry.
Peter Rock, one of the leading authorities on urban gulls in Europe, said there is "no chance" that the gulls will return to less densely populated areas – regardless of any measures Dundee City Council puts in place to reduce their numbers.
After studying the species for 38 years, Mr Rock dismissed claims the birds are congregating in the city to gorge on people's rubbish.
And he also said claims they are becoming more aggressive after feasting on human food are untrue.
He said: "Despite the fact that so many people hate gulls, you'd be surprised to know how many people are actually feeding them.
"Even if you stopped people feeding them, it's going to make no difference – they are totally adept at finding food.
"There are ways of curbing the problem, by removing eggs from nests. I'm sure the local council is aware of this and it would cost thousands of pounds.
"This would need to be carried out for at least 10 years and even then, you wouldn't visibly notice a big drop in the population.
"I'm afraid to say you've got urban gulls and you're not going to get rid of them. You may – with a great deal of expense – reduce the population slightly over time. But there is maybe a case to start embracing them.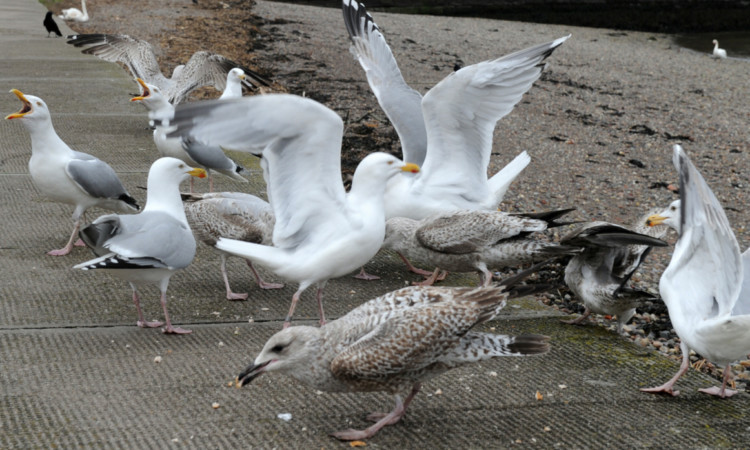 "Down at Bristol City Football Club, the team has celebrated the fact they share the city with their neighbours with a gull painted on one of the stands."
But some residents said many Dundee streets have such a problem with gulls they look like a scene from Jurassic Park.
German Doner Kebab manager, Michael Dobson, 29, reckons the problem is largely man-made.
He said: "I understand the council needs to look at other measures. There needs to be more awareness to stop feeding them. The residential bins are a nightmare – in the street you see gulls feasting on the rubbish."
Charlene Hutchison, 33, a supervisor at German Doner Kebab, said she is "terrified" to walk down Reform Street.
She added: "If I'm on a day off I won't walk down the street. My niece got attacked when she was only seven."
Heather Davidson, 40, from Broughty Ferry, said in her area the problem is just as bad.
She said: "These birds are so big now it's like a scene from Jurassic Park."
Taffy Barrington, 50, from the city centre, said the gull's had become "fearless". He said: "A couple of Saturdays ago I actually saw gulls scrapping over a pizza.
"They are completely fearless of cars as well now."
A Dundee City Council spokeswoman said: "We know that gulls can often be a cause for considerable distress and annoyance and we continually pursue tried and tested as well as innovative solutions to the problems that arise from these birds.
"We are proactive in improving the waste disposal facilities in and around the city centre. Bins have been provided in many areas where previously waste bags were placed on the footpaths and became magnets for gulls.
"Routine monitoring of this situation ensures that problem areas are swiftly identified to enable further action to be taken. We would also ask that people do not feed seagulls as this exacerbates the problem."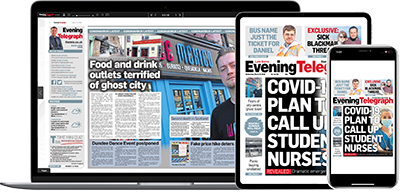 Help support quality local journalism … become a digital subscriber to the Evening Telegraph
Subscribe