The humble sausage roll – meat or murder?
Ask a meat-eater for their take on the baked treat and they'll tell you it's a staple of weekend treats or of school lunches in times gone by.
It's an unshakeable formula – meat, layers of pastry, glazed with milk or egg and baked until golden. Delish – or is it?
Bakery chain Greggs attracted both praise and outrage when it announced it was introducing a vegan-friendly sausage roll.
The snack is made with a "bespoke" Quorn filling and wrapped layers of pastry which are glazed with vegetable oil.
With no meat at its core and no glaze of milk or egg, it couldn't be further from the traditional idea of the sausage roll.
But is it time we rethought the unpresuming tasty treat?
To solve the country's most important conundrum – never mind Brexit – the Tele took to the streets to put Greggs' latest creation to a blind taste test.Equipped with both meaty and vegan varieties, we gave locals one or the other and asked them to guess which they had just eaten.
No points, no prizes – but we did give them free food.
Stobswell retail worker Ali Fenton, 33, correctly guessed we had given her a vegan roll.
She said: "It's pretty good. I'm not really a big sausage roll fan but to be honest you wouldn't be able to tell the vegan one is any different.
"I can just tell they're different because of the texture.
"It's nice for people who are either allergic or make the choice to have more options available – especially among the bigger companies."
Kat Marshall, 28, knew which one she had been given – as she had a vegan sausage roll in Glasgow last week.
"To be honest, Greggs have nailed it," she said.
"I'm not a massive meat eater but I'm trying to be more mindful of what I eat. It's nice to have the option."
In Dundee, there are all kinds of places where people can get their plant-based fix, from local businesses such as Marwick's and Avery & Co to big chains such as Pizza Hut and Nando's.
And if the experts have their way, we'll all be eating less meat in future – and not necessarily for the sake of the animals.
A report published by food researchers the EAT-Lancet Commission suggests meat-eaters need to cut consumption to the equivalent of half a rasher of bacon a day.
If we don't all adopt "planetary health" diets with less meat and more veg, it suggests the world could be irreversibly damaged due to the environmental impact of producing meat.
It warned: "Without action, today's children will inherit a planet that has been severely degraded and where much of the population will increasingly suffer from malnutrition and preventable disease."
Our other two tasters, Anis Makesh and Jamie Duggan, said they could easily make the switch for the sake of the planet.
Jamie, 18, said: "I quite like a sausage roll and I would give the vegan one eight out of 10.
"I can't tell that this is a vegan one – I would probably say I could make the switch as long as things are the same price."
Anis, from the city centre, scored the veggie version seven out of 10.
He said: "It's very good. You can feel it's a bit different but not all that much. If this sort of thing is widely available and it's tasty, I could eat less meat."
So the humble sausage roll might be changing – but our test suggests it's not all bad. And making small changes like this could help to preserve it – and the planet – for years to come.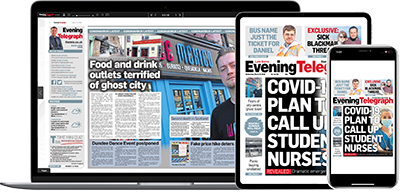 Help support quality local journalism … become a digital subscriber to the Evening Telegraph
Subscribe